The vibrant and beautiful city of Istanbul has many an architectural splendour that dates back to thousands of centuries. A. J. Philip brings back rich images from his visit to the former Byzantine Capital, virtually straddling the continents of Europe and Asia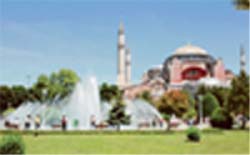 TO be put up in a hotel that once served as a major prison at the time of the Ottoman Empire was in itself a novel experience. Located in the heart of Istanbul, Four Seasons Hotel has many novelties. Built in 1917, it was meant for dissident writers. Small wonder that the organisers thought it was an ideal location for journalists from around the world to meet and deliberate on a theme of great relevance – Fact vs Rumour.
'Dancing is not part of acting'
Konkona Sen Sharma has preferred to stay away from the big-budget Bollywood movies and opted for smaller projects. With critics raving about her performance in Life in a Metro, Konkona is again hailed as one of the most talented actors. In a candid interview with Ritusmita Biswas, she talks about her work and more
De Niro and Pacino go for Righteous Kill
Andrew Gumbel
Robert De Niro and Al Pacino will be appearing in the same movie for the third time in their fabled careers. The two veteran actors will team up as cops chasing a serial killer in Righteous Kill, a film being produced and directed by Jon Avnet. The film will shoot in Connecticut and New York in late summer and will presumably be released sometime in 2008.