Haute mums
Not long ago, the very mention of 'mommie-to-be' meant some big-bellied, nightie-clad woman, devouring everything from desi ghee-dripping pinnis to ambitious 'super baby' books. Not any more. For, the city's mommie-circuit is fast moving beyond concealing bulging tummies by fitting into their husbands' shirts or mom-in-laws' nightgowns. Bidding bye-bye to the oh-so-boring clothing, expecting moms in town are fast embracing chic clothes.
They may be admiring the men in olive for their valour or looking up to their favourite school teacher as their mentor but the school going kids today plan their careers keeping the practical prospects in mind. Hence, it's not only passion for something that convinces these youngsters to choose their subjects. Rather, it's their realistic approach that governs their career choice.



Himanshi Makkar going through her books .
Far from the madding crowd
Zipping down the fast track is the boogie-woogie brigade, driving away from familiar environs of city, into serenity and anonymity of countryside for savouring the taste of good life in food and party joints set up in the farmhouses.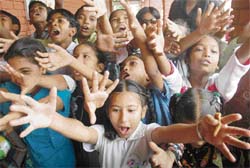 Understanding children
The end of the 15-day workshop for under-privileged children was marked by a remarkable performance on Prem Chand's Idgah and Ek Raja Rani Kee. The workshop organised by Bal Vikas Kendras in Sector 38 began on June 1 and saw participation from 39 children. It was sponsored by Chandigarh Sangeet Natak Akademi and the children picked on singing, acting and yoga exercises from Ashu Sharma, a pass out from P.U School of Drama. His mantra was simple, 'Do not compel them to perform in a particular manner. Let the children perform according to their own emotions and logic reasoning.' And, the results were more than pleasing for children who could not even tell their names confidently on day one, set the stage on fire on the last day. — TNS

Dazzling

delight
All of city's lovely Lolitas are likely to raise a toast to this. The town, after being home to some high-end luxe couture is now offering a touch of the whimsical. Transforming those on the fringes of the fashionable world to divas of style are these trendy trinkets. Lush, delicious and dazzle-worthy, these baubles are enough to set your sizzle-quotient soaring. And as most of our glam goddesses must have guessed, these are none but the hottest, must-have accessory in town — earrings.

Beauty studio
Win hands down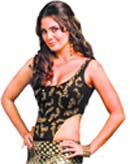 Little Interview
Lara's ticket to luck
When this dusky damsel first treaded into tinsel-ville, all she could boast of was the tinkling Miss Universe tiara, which had rested on her intelligent head 'once-upon-a-time.' Today, four years have rolled by and the elegant Ex-Miss India Universe looks prettier, happier. And why not, for the daring Dutta is finally in news. Not f or living in with her beau Kelly Doorji, this time (and thank God for that!), but for being casted in Yash Raj's Jhoom Barabar Jhoom. We catch her swinging to the tunes of her newly found stardom.
Jolie on Mission Tiger
Angelina Jolie is a champ of many noble causes, and this time too she is carrying forward her passion with a new mission — saving tigers. The Tomb Raider actress recently announced in the July issue of Esquire magazine that she is on a new task, of saving the endangered Asian tigers. However, that doesn't mean she's turning vegetarian. — ANI