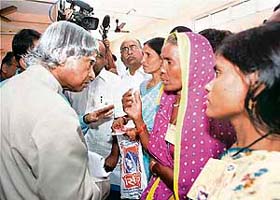 President A.P.J. Abdul Kalam interacts with wives of farmers at Yavatmal during his whirlwind tour of Maharashtra on Friday. — PTI
Arya Samaj preacher also in race
New Delhi, June 16
As filing of nominations opened for the Presidential election, an Arya Samaj preacher from the capital on Saturday threw his hat in the ring for the race to Raisina Hill. Ram Kishen Mital, who is physically handicapped, came in a wheel chair to Parliament House complex to file the document, Lok Sabha officials said.
CPMT Irregularities
VC's office sealed, re-evaluation ordered
Lucknow, June 16
Cracking the whip on those responsible for alleged irregularities in the results of the Uttar Pradesh Combined Pre-Medical Test Chief Minister Mayawati today ordered the sealing of the office and residence of Veer Bahadur Singh Purvanchal University vice-chancellor which had conducted the examination this year.
IIM sanctioned for Andhra
Hyderabad, June 16
The Centre has sanctioned Indian Institute of Management for Andhra Pradesh, fulfilling a long-pending demand of the state. The announcement was made by union minister for human resource development Arjun Singh here today.
UN resolution a proud moment for India: PM
International Non-Violence Day on Gandhiji's birthday
New Delhi, June 16
Prime Minister Manmohan Singh has welcomed the UN resolution declaring Mahatma Gandhi's birthday on October 2 as the International Day of Non-Violence describing it as a "proud moment for India".

In video (56k)
Antony admits to problems in Gorshkov deal
New Delhi, June 16
Defence minister A.K. Antony today admitted that there were some problems in the deal with Moscow on the acquisition of the Russian aircraft carrier Admiral Gorshkov but hoped that they would be sorted out soon.
India for equitable growth opportunity
New Delhi, June 16
While calling for urgency in dealing with the critical issues related to climate change, India said the global debate should harmonise equitably the imperatives of development in the emerging economies and sustainable development.
Errant Bihar minister apologises
Patna, June 16
After initially denying any misbehaviour with the widow of a government employee seeking a job for her son, Bihar Agriculture Minister Narendra Singh today apologised for his action.
Six hurt in violence at Nandigram
Kolkata, June 16
At least six persons were injured in an exchange of fire that took place between workers and supporters of the CPM and the Krishi Bachao Committee at Nandigram today. The police also fired several rounds to disperse the two warring groups.


In video (56k)
Gujjar violence: Two Collectors transferred
Jaipur, June 16
Collectors of Dausa and Karauli, two of the most affected districts during the Gujjar agitation, have been transferred. The roles of Dausa Collector H K Damor, Karauli Collector K K Pathak and SP Prafull Kumar and Baran Collector Navin Jain were questioned during the week-long agitation, which shook the desert state over Gujjars demanding Scheduled Tribe status.
12 Mehdi followers held
Raisen (MP) June 16
Twelve persons, who were arrested yesterday for tutoring Muslim youths to wage a holy war, are followers of the controversial Mehdi sect, which believes that the 'prophet' would come to this world again when injustice increases.
SC orders relief for Tsunami victims
New Delhi, June 16
As thousands of tsunami victims in Andaman Nicobar islands were crying for the restoration of basic amenities ahead of monsoon not provided to them even after two-and-half-years of the tragedy.



Videos
Adventure camps make summer vacations exciting.
(56k)
Mobike's with optimum mileage of 250 km/pl.
(56k)
Superhit off/on screen partnerships.
(56k)
Amitabh and his different looks.
(56k)