food talk
A LIGHT REPAST
Made with button mushrooms, khumb do pyaaza is a hassle-free preparation that can be enjoyed all the year round, says Pushpesh Pant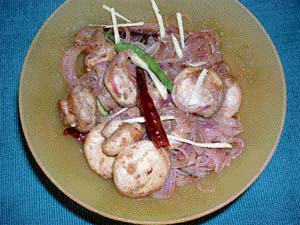 WHEN one hears the word do pyaaza, the vision conjured up is of delectable non-vegetarian delicacies—chicken or mutton. No other recipe is as misunderstood as the do pyaaza. Some tell us that the name derives from the quantity of onions used—twice that of the main ingredient. Others insist that the dish is so named because onions are added twice—once when sliced onions are fried golden brown and the second time midway through the cooking to impart a unique texture and flavour to the dish.
The prince among cooks, Maharaja Sahib Sailana, argued vehemently, though not very convincingly, that neither explanation is anywhere near the truth. According to him, any vegetable added to meat could claim this status. There is this friend from Old Delhi who has spun an interesting yarn that the recipe can be traced to the dastarkhan of a courtier of the Grand Mogul Akbar, Mulla do Pyaaza.
What has intrigued us is that one has never encountered a fish do pyaaza. Fellow foodies believe in complicating our life and at least two have drawn attention to the fact that do pyaaza recipes seem to be close cousins of ishtew and gosht khara masala.
Whenever the riddle is being tackled, the shakaharis feel a bit left out. Only once or twice have we been treated to a vegetarian do pyaaza—alu or kathal. To tell the truth, Kulsum Apa at Lucknow turns out both to perfection. The only problem is that it is extremely difficult to transform the Cinderella-like plebian potato into an exotic princess however hard you try to dress it up—it needs the magic touch of a gifted cook; katlhal is a bother to handle and is available only seasonally.
You can imagine our delight when Indrajit, our partner in footloose gluttony masquerading as gastronomy, shared with us a quick-fix do pyaaza recipe: vegetarian, refreshingly light and exceptionally tasty. Made with button mushrooms, it is a hassle-free preparation that can be enjoyed all the year round but is particularly attractive during the summer months when the body and soul pine for a light repast. Added bonus is almost zilch fat and negligible calories.
Chef's corner
Ingredients
Button mushrooms (large sized) 400 gm
Onions (medium-sized finely sliced) 250 gm
Green chillies (deseeded and slit lengthwise) two
Whole red chillies (wiped clean with moist cloth) 2-3
Ginger (scraped, washed and cut in matchsticks) 2 inch piece
Butter 1 tbsp
Salt to taste
Method
Wash the mushrooms well to remove all grit, then wipe dry. Trim the stalks but do not cut or slice. Melt the butter in a pan and first glaze the whole red chillies in it, remove and reserve, then put onions in it when hot. Stir continuously till the onions are translucent. Now add the mushrooms and sprinkle with salt. Stir-fry over high heat for about three minutes. Let the moisture evaporate, and then add green chillies. Now add whole red chillies and garnish with ginger. Resist the temptation to add any other spices/herbs. Mushrooms have a delicate flavour of their own that should not be smothered. If you like a little sauce-like gravy, don't evaporate all the moisture while stir-frying the mushrooms. Whatever else you do, avoid tomatoes—these mushrooms are not to be paired with toast.