hollywood hues
Overdose of action
With so much in the plot, Pirates of the Caribbean 3 joins its predecessors in glamour and magnitude but the entertainment tends to be dull, writes Ervell E. Menezes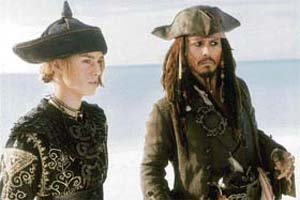 Keira Knightley and Johnny Depp in a still from the movie
THE second and third Pirate films were shot back to back. It's cheaper that way. But would that be a compromise on quality? Good question. But when one makes a marathon 170-minute film, quality almost immediately goes out of the window. So, with all its razzle-dazzlery and intent to mix form with content, Pirates of the Caribbean: at World's End ends up neither here nor there, leaving a rather empty taste in the mouth after all is said and done. "It is a dark time as the Age of Piracy nears to a close," says the synopses. We sincerely hope the age of piracy ends with this effort.
Lord Cutler Beckett (Tom Hollander) of the East India Company has gained control of the terrifying ghost ship "The Flying Dutchman" and its evil, vengeful captain Davy Jones (Bill Nighy). It now roams the seven seas, unstoppable, destroying everything in its wake, under the command of Adm Norrington (Jack Davenport).
Will Turner (Orlando Bloom), Elizabeth Swann (Keira Knightley) and Captain Barbossa (Geoffrey Rush) embark on a desperate quest to gather the Nine Lords of the Brethren Court, in the ardent hope of defeating Beckett and his lethal, elusive ghost ship. But one of the Lords is missing—Captain Jack Sparrow (Johnny Depp).
In an increasingly shaky alliance, our heroes, including Tia Dalma (Naomi Harris), Pintel (Lee Arenberg) and Ragetti (Mackenzie Crook) must travel to the dangerous, exotic Singapore to confront Chinese pirate Captain Sao Feng (Chow Yen-Fat) to gain charts and a ship that will take them to the world's end to rescue Jack. Enlisting Chinese mega star Chow Yen-Fat of The Curse of the Golden Flower fame is a marketing stroke. It will draw Chinese audiences.
With so much in the plot and a host of players to do the honours, Pirates of the Caribbean 3 joins its predecessors in glamour and magnitude. But will they be able to hold the attention span of the viewer with all the action? Director Gore Verbinski tries to make the key protagonists complex, shades of the three in Blood Diamond so the viewer is kept guessing as to the shape of the events that follow. But it is not even remotely comparable to that film.
Johnny Depp does his best to keep the fare going and Keira Knightley, Orlando Bloom and Naomi Harris lend him adequate support but the action, and it comes in oversized doses, tends to dull the entertainment, which tends to be quantitative. But Verbinski is too obsessive and could have done with greater restraint, like those 1950s classics which featured Errol Flynn, Burt Lancaster and Co. Less is more in these cases but this is easier said than done. The net result: a film that could have been better, briefer and much more entertaining.