French twist in the tale
Remaking French films has been an age-old Hollywood tradition. In recent years, Bollywood has also been bitten by the Gallic bug, writes Vikramdeep Johal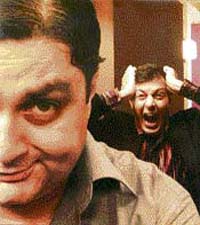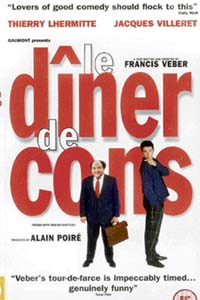 Sleeper hit Bheja Fry (above) is a remake of the French farce Le Diner de Cons
WHAT do Dhoom (2004), Fun2shh (2003) and this year's sleeper success, Bheja Fry, have in common? Their hatke stories and characters? Well, if you have loved them, then here's a spoiler—they are all inspired by smash hits of contemporary French cinema.
Sagar Ballary's Bheja Fry, made at a shoe-string budget of Rs 60 lakh, has grossed over Rs 12 crore within two months of its release. It is virtually a scene-by-scene remake of Francis Veber's 1998 farce Le Diner de Cons. The story of a simple-minded guest who creates mayhem in the house (and life) of his host has been deftly transported to the Indian metro milieu. Vinay Pathak as the "idiot" comfortably steals the film, just as Jacques Villeret did playing the same role in the original. Bheja Fry is only 95 minutes long, the ideal length for a comedy, though Le Diner... was even shorter (81)—and brisker.
Sanjay Gadhvi's Dhoom and Dhoom:2 have wowed audiences with their daredevilry and razzmatazz. Their source of inspiration is Gerard Pires' Taxi (1998), a fun-filled action flick written by celebrated French director Luc Besson (Incidentally, Besson's first Hollywood film, The Professional, was rehashed as the Bobby Deol starrer Bichhoo in 2000).
While Dhoom was about zipping mobikes, Taxi revolves around zooming cars. The French blockbuster, which is at times speedier than Speed, has spawned three sequels—Taxi 2 (2000), Taxi 3 (2003) and Taxi 4 (2007). The speed freak's role has made Samy Naceri a big star in France, never mind his off-screen brushes with the law (Ironically, Uday Chopra, who essayed this part in the Hindi version, was totally eclipsed by Abhishek Bachchan and John Abraham).
The Taxi series is one of the most rewarding franchises in French cinema, collecting over $200m worldwide. Its super success seems to have rubbed off on the Dhoom series, whose second part did even better business than the first (the third one is in the pipeline).
Imtiaz Punjabi's comedy Fun2shh, starring Paresh Rawal and Gulshan Grover, picked the concept of time travel from Jean-Marie Poire's money-spinner Les Visiteurs (1993). The latter featured Jean Reno as a 12th century knight who lands up with his squire in modern-day France. In the desi version, a security agency sends three men back to the 10th century to protect a royal tiara from an infamous thief. The anachronistic humour worked in Fun2shh too, but the meandering plot and the inordinate length did the film
no favours.
Having borrowed ideas and stories from Hollywood for the past several decades, Bollywood seems to have turned its attention to France. Perhaps, it has finally dawned on Hindi film-makers that Hollywood itself has been pinching from French cinema for
donkey's years.
Creative inadequacy in Hollywood is not a recent phenomenon. Way back in 1936, Howard Hawks made The Road to Glory, which was derived from Raymond Bernard's Les Croix de Bois (1931). Acclaimed works of several French directors have seen American versions, such as Jean Renoir's Le Chienne (1931), which was turned into Scarlet Street (1945) by Fritz Lang; Jean-Luc Godard's A Bout de Souffle (1959), ineptly remade as Jim McBride's Breathless (1983); and Francois Truffaut's Jules et Jim (1961), which inspired Paul Mazursky's Willie and Phil (1980).
Though Hollywood has freely borrowed from foreign films (European as well as Asian), France remains on top of its "hit list". It's a tribute to the imaginative prowess of Gallic artistes, who often dare to go off the beaten track to explore the possibilities of the medium. Some French directors, including New Wave masters Godard and Truffaut, have been influenced by mainstream American cinema, but they have preferred to depict their personal vision rather than dish out spurious remakes.
Bollywood directors can learn quite a few good things from their Gallic counterparts—balance between style and substance, perceptive observation of human nature, and receptiveness to fresh ideas (or fresh treatment of old ideas). Moreover, French movies — even the kitschy ones — are about humans, not aliens, dinosaurs or talking pets. Even if film-makers confine themselves to ripping off stories, it won't be all that bad. After all, the primary source (French cinema) is way above in quality than the secondary one (Hollywood).