Teachers as torch-bearers
Holding up a mirror to moral and social prejudices, the teacher in Hindi films has always stood upright despite the crumbling value system in our society, writes M. L. Dhawan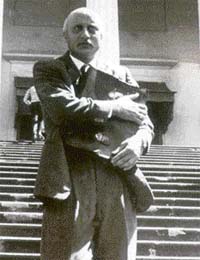 In Mahesh Bhatt's Saaransh, Anupam Kher has nothing on his side except his conscience and principles
Filmistan Productions' Jagriti (1954) dwelt on problem children. Fed up with a group of incorrigible students and their irreverence for authority, the Principal is on the verge of expelling them when a devoted teacher, Abhi Bhattacharyya, shoulders the responsibility to reform them. He wins over the children with love and affection.
Nargis as Vidya in Raj Kapoor's Shri 420 (1955) is a schoolteacher who walks beside the downtown tramp Raju when she sees the medallion of honour bestowed on him for his integrity. With the passage of time, when Raju pawns his principles along with the medallion for a pocketful of gold, Vidya closes the door on his face. She refuses to walk with him on the road to crime. A handful of green bills, the dubious road to material success, etc are not enough to lure her. Vidya, the winsome woman, is the medallion that adorns the lapels of the honest.
Echoes of noble messages given by teachers have often been heard in films over the years. In Yash Chopra's Deewaar (1975) when Shashi Kapoor, a police inspector, knocks at his convict's home to offer a packet of food and solace, his offer is rejected by the convict's mother. The father, however, condemns his son's moment of weakness. Surprised at the old man's righteousness, Shashi Kapoor says, "Itni badi shiksha kisi teacher ke ghar se hi mil sakti thi".
In Mahesh Bhatt's Saaransh, the Principal, Pradhan (Anupam Kher), has nothing on his side except his conscience and principles. He is on the wrong side of 60, has lost his only son in a far-off country and has come to receive his ashes, yet he grows from an emotional wreck to a powerhouse of spiritual strength when he takes up cudgels against gang overlord Nilu Phule. He debunks the crumbling, pulverised system of governance saying, "Was this why I bore lathis of the British on my back?
Paresh Rawal in Mahesh Bhatt's Sir is a criminal who kills without compunction, but despite his aggressive stance and unethical ways, he lays down his millions and imperial status for a handful of principles he imbibes from his daughter's tutor, Naseeruddin Shah.
In N. Chandra's Pratighat (1987), the unconventional warrior is female lecturer Lakshmi Joshi (Sujata Mehta) whose integrity enables her to rise above the smallness around her and makes her a crusader. First she cleans up the mess in the college, which is bogged down by indiscipline and a politicised student leadership. From there she moves on to the municipal level and confronts Kali, uncrowned despot of the town. The frail college lecturer acquires messianic overtones and succeeds in stemming the rot that was eating into the vitals of society.
Yash Chopra's Mohabbatein (2000) was about two strong and stubborn teachers, Principal Narayan Shankar (Amitabh Bachchan), who does not believe in love, and Raj Arayan (Shah Rukh Khan), a music teacher who believes in and preaches love. It turns out that the music teacher used to be a student at this school and fell in love with the Principal's daughter. The Principal rusticated him from the school without confronting the erring student. The daughter committed suicide. Dead to all, she is pulsatingly alive in his heartbeat, in his veins. As an ode to his eternal love, the music teacher has made it his mission to unite lovers. When he finds that his three favourite students are in love with three girls from a neighbouring girls school, he encourages their affairs. Only after the affairs turn into full-blown marriage plans does the furious Principal realise that the errant music teacher is the same former student who fell in love with his daughter. Narayan Shankar drops his rigidity against any display of affection. Raj Arayan has the blessings of the adamant and obdurate Principal.
One remembers the multi-faceted cook (Rajesh Khanna) in Hrishikesh Mukherjee's Bawarchi reprimanding the older daughter of the family for her arrogance saying, "Mere talent is not enough. Unless you have humility, you cannot grow".
Sanjay Leela Bhansali's Black (2005) was a touching story of Devraj Sahai (Amitabh Bachchan) who helps a blind, dead and mute girl student, Michelle, realise her potential and graduate from a regular college. The teacher shows that there is always light at the end of the tunnel. When her teacher develops Alzhemier's, Michelle remembers his kindness and reciprocates. Noble teachers on screen as well as in real life have always cast a magical spell on the mind of the viewers or students.