Iím excited about Halla Bol: Vidya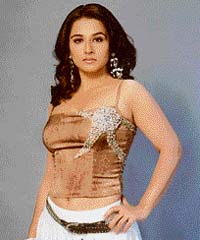 ĎGossip is a full-time vocationí
Vidya Balan laughs off allegations that she opted out of Pradeep Sarkarís "Laaga Chunari Mein Daag" because she didnít want to play second lead in a Rani Mukerji starrer.
"I actually canít believe Iím not doing dadaís (Sarkar) film. Thereís no way I couldíve let this happen. But dada wanted to complete the film within a certain period and those dates were committed to Sajid Khanís Hey Baby a year back," Vidya explains.
She says that Sarkar is like family to her. "Not being in his film was inconceivable to me. I canít believe the film is being made without me. The ads and the film (Parineeta) that Iíve done with dada are very precious to me," Vidya told IANS.
In Hey Baby, she had to coordinate her dates with co-stars Akshay Kumar, Fardeen Khan and Kunal Kapoor.
"In dadaís film my dates had to be coordinated with Jayaji (Bachchan), Rani, Abhishek (Bachchan) and Kunal. Both projects needed chunk dates.
"Not doing dadaís film wasnít an easy call to take. When people say itís shocking to hear that Iím not in dadaís film, do they realise how shocking it is for me? You canít believe how awful I felt to not be in it. Inshallah, Iíll be in his next. They tell me they miss me there. To even talk about it makes me emotional." As for rumours about why she didnít do the project, Vidya has only one thing to say, "As long as dada and I know the truth it doesnít matter. Gossip is a full-time vocation." After Lage Raho Munna Bhai, Vidya has almost completed another socially relevant film. Sheís excited about Raj Kumar Santoshiís Halla Bol.
"Santoshiís films have always had a very high level of social relevance. Iím so happy to be working with him". ó IANS