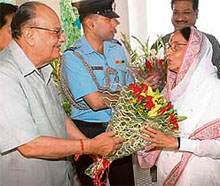 Rajasthan Governor and UPA's presidential candidate Pratibha Patil being greeted with a bouquet by senior Congress leader Arjun Singh at his residence in New Delhi on Sunday. — PTI
Anti-communal violence Bill under fire
New Delhi, June 17
The much talked about anti-communal violence Bill of the UPA Government was yesterday attacked by nearly 50 prominent personalities from various walks of life, including former Chief Justice of India A M Ahamadi and former Delhi High Court Chief Justice Rajender Sachar who described it as a "totally misconceived" draft of a law.
Lalu wants to make Indian Railway the world's best
Ratlam, MP, June 17
Railway Minister Lalu Prasad yesterday said that his foremost priority is to make the Indian Railway the world's best service of its kind and work had begun in that direction.
SEZ protest: Women tonsure their heads
Nagpur, June 17
The controversy surrounding the acquisition of farmlands for setting up Special Economic Zones (SEZs) in several parts of the country does not seem to die down.
Put up a united fight against SEZs: Medha
Mumbai, June 17
Accusing the politicians and bureaucrats of favouring the corporate sector on the issue of setting up of the Special Economic Zones (SEZs) in Maharashtra, noted activist Medha Patkar today called for a united fight over the issue.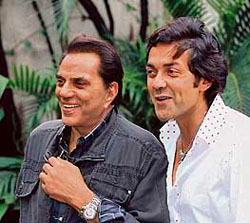 Bollywood actors Dharmendra and his son Bobby celebrate Fathers Day with a photocall during the promotional conference of 'Apne' starring Dharmendra along with his sons Sunny and Bobby in Mumbai on Sunday. — PTI

In Video (56k)
No forcible eviction for SEZs: Minister
New Delhi, June 17
Displacement of people from land sought for special economic zones (SEZs) will be purely voluntary and no forcible land acquisition will be made. This assurance was given by rural development minister Raghuvansh Prasad Singh.
Pranab embarks on visit to Indonesia
Kolkata, June 17
External affairs minister Pranab Mukherjee embarked on a four-day visit to Indonesia and Singapore on Sunday morning to boost India's Look East Policy.
e-governance scheme makes life easy for villagers
Ramanagaram (Mysore), July 17
When 65-year-old Rudraya recently decided to get a caste certificate for his granddaughter all he did was to walk up to a e-kiosk in his village Shyanboganahalli. The kiosk has an operator, who takes down Rudraya's request in an electronic format and asks him to come back in a week to collect the certificate.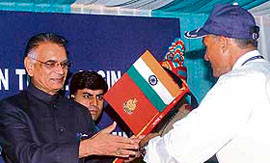 Union home minister Shivraj Patil receives a flag from the leader of Sashastra Seema Bal mountaineering expedition team G.C. Shah at a function in New Delhi on Sunday. — PTI
A weather station near glacier to study global warming
New Delhi, June 17
For the first time, an Indian weather station is being set up near a Himalayan glacier to study the impact of climate change and provide weather details and warnings to mountaineers.
E-waste, a bomb in Bangalore's belly
Bangalore, June 17
As number of Information Technology (IT) companies is growing, a bomb in the belly of Bangalore is ticking.
Muslim bodies oppose reservation
Hyderabad, June 17
Muslim organisations, including Majlis-e-Iteehadul Muslimeen (MIM), have opposed Andhra Pradesh government's proposed reservation for Muslims on the basis of caste and creed, saying it was aimed at "dividing" the community members. It has asked the state government to provide reservation only on the basis of economic criteria.
Minorities panel
Bill for statutory status in monsoon session
Kochi, June 17
A bill to amend the Constitution to give constitutional status to the National Commission for Minorities would be introduced in the coming monsoon session of the Parliament.
Italian woman delivers using birthing pool method
A second for South Delhi hospital in as many months
New Delhi, June 17
Divya Vaishvi, the third child of Italian couple Dr Jorge Caravotta and Veronica Bertolini, is literally a water baby. She was born at a South Delhi hospital on Thursday after her mother opted for the water birth method of delivery.
Security beefed up at Nepal, Bhutan borders
Siliguri (WB), June 17
The vigil at India's borders with Nepal and Bhutan has been strengthened to restrict entry of Bhutanese people of Nepali origin and Nepali Maoists.
Don't be scared of donating kidney: Vajpayee
New Delhi, June 17
Former Prime Minister Atal Bihari Vajpayee today said he was leading a healthy and normal life in spite of donating one of his kidneys many years ago.
Rescued after fall into borewell, boy dies
Pune, June 17
A five-year-old boy, who fell into a borewell while playing at a village in Shirur taluka of the district today, died in a hospital after being rescued, official sources said.
Arjun Singh warns against English-centric education
Hyderabad, June 17
Union Minister for Human Resource Development Arjun Singh yesterday warned against perpetuating "English-centric urban growth model" and called for imparting modern education through Indian languages.
Third front 'formed by disgruntled leaders'
Puducherry, June 17
All India Congress Committee secretary P Sudhakar Reddy today said that the third front was formed by the political leaders who were "disgruntled, damaged and defeated".
Oman cyclone
3 Keralites still missing
Kochi, June 17
Three more Keralites reported missing in Oman after a devastating cyclone struck that country were yet to be traced, union minister of state for External Affairs E Ahmed said today.




Videos
Ladies club in Indian Politics.
(56k)
Civil society to be involved in foreign policy framing, says Pranab Mukherjee.
(56k)
Floral Cuisine
(56k)