Punjabi writers to bridge east-west gap
Amritsar, June 19
In a bid to bridge the gap between the fictions of eastern and western Punjab, created by political bitterness, some eminent Punjabi storywriters of this side of the border have come forward to transliterate the works of prominent writers of west Punjab.


Melody men: Wadali trio weaves musical magic
Amritsar, June 19
Rendering voice of Wadali brothers and divine lyrics of Baba Bulle Shah simply made way for one of the finest musical journeys one can ever enjoy.

(From left to right) Lakhwinder Wadali, Puran Chand Wadali and Pyare Lala Wadali during a performance in Amritsar. — Photo by Rajiv Sharma
Summer camp draws huge crowd
Amritsar, June 19
A 13-day summer camp which is being organised at Mamta Niketan Convent School, Tarn Taran is drawing a huge rush.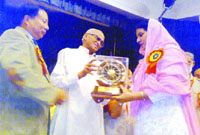 Harinder Kaur Riar, principal of Khalsa College Public School, Amrit
sar being conferred with "Bharat Excellence Award" by Friendship Forum of India at a function in New Delhi. — A Tribune photograph
R&D needs more attention: VC
Amritsar, June 19
Terming the promotion of higher education in the country as responsibility of the central and state governments, Guru Nanak Dev University Vice-Chancellor Jai Rup Singh said it could not be shifted to the private sector.



Going sporty
NSS vital for social uplift: GNDU VC
Amritsar, June 19
The educational institutions should serve as centres of social service to mitigate the human sufferings, said Guru Nanak Dev University vice-chancellor Dr Jai Rup Singh.


My City
Guru Ki Nagri going to the dogs
Amritsar, known as Mecca of Sikhs, is being marred by poor sanitary conditions, dusty pot-holed roads, stray cattle menace and haphazard construction. It seems that the entire city is going to the dogs.


A begger looks for eatables in a garbage dump. — A Tribune photograph
216 patients examined
Amritsar, June 19
A free multi-specialty camp was held at Fortis Hospital here today where as many as 216 patients were examined by a team of doctors.
Cold Corner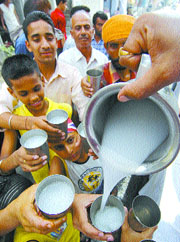 To beat the heat, 'chabeels' are being organised at every nook and corner of the city. — Photo by Rajiv Sharma
'Globalisation casting a shadow on culture'
Amritsar, June 19
Globalisation is taking its toll on our human and ethical values, said political scientist Prof Harish Puri.
5 new courses at Hindu College
Amritsar, June 19
The Hindu College will introduce five new courses this season, said admission in-charge Dr Arun Mehra.
Sugar hastens wrinkles
The cake baking in the oven may have a gorgeous golden crust, but inside each delicious crumb is a time bomb of ageing.
'Kindle' nominated for short film award
Ashish Balram Nagpal's film Kindle, starring – Sushant Singh and Dipanita Sharma, has been nominated for the Indian Short Film Award at the Bollywood and beyond (Indian Film Festival) in Stuttgart Germany.


Workshop helps boost confidence
in students
Amritsar, June 19
A six-day workshop on personality development was organised at MKD DAV Public School, Attari. The main objective of workshop was to make participants realise their strengths and usher confidence in them. Around 30 students participated in the event. They were divided into groups of five each.

Students who were honoured at the workshop.