Admin to conduct sibling survey in schools, colleges
Chitleen K Sethi
Tribune News Service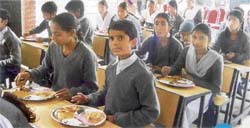 Chandigarh, June 21
The Chandigarh Administration will conduct a first of its kind sibling survey of the city by a show of hands from among schoolchildren and college students. The survey will ascertain the family size and sibling composition of young families in the city.
A brainchild of the special secretary finance, UT, Raji P Srivastava, the sibling survey will be carried out next month when the city schools and re-open after summer vacations. "The aim is to assess family composition to understand shifting trends in families and also to obtain data on social trends among couples in the age group of 24 to 60," she said.
An easy method of show of hands by schoolchildren will be used, probably for the first time in the country, to gather the data. "Either a class teacher will collect the information given by the respondents for us or our volunteers can visit the classrooms," added Srivastava.
The survey will be conducted in all government and private schools in Chandigarh, all government and private colleges in the city and in all classes in these institutions. Each of the students between the age group of 4 years to 20 years will be asked about the siblings they have. The details of the number of brothers, sisters who are younger or older to the respondent will be noted down. "This way the number of only children will also be identified. Since the collected data will pertain to people born between the years 2003 and 1987 this can be co-related with census data for 1991 and 2001," said Srivastava who is also the Director Statistics UT.
Srivastava added that this survey is part of the child protection programme launched by the Chandigarh Administration. The data collected will also be used for seeking a connection with the spurt in the availability of pre-natal sex determination tests, the enactment of legislation banning female specific abortions or abortions on non-medical grounds. The level of education and prosperity of parents will be evident from the choice of schools and colleges the parents have made.
"While designing programme and policies statistics come in very handy. However, census data which is available only once in 10 years is often not a reliable indicator of rapidly shifting social and economic trends and preferences exercised by citizens in various walks of life," said Srivastava.
Other than the college and school principals who have already assured the Administration of their cooperation for the survey the Administration also intends to rope in willing college students from psychology and sociology subjects to volunteer as surveyors for this project.
"This will hone their data collections skills. This simple method of show of hand sibling survey will throw up the numbers that we sorely need to have in order to design special programmes for the girl chill, slum children and to curb gender disparities in the city," pointed out Srivastava.