M A I N N E W S
Sonia as Durga creates flutter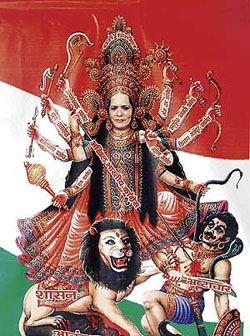 Moradabad, June 21
Close on the heels of BJP activists depicting Rajasthan Chief Minister Vasundhara Raje and top party leaders as gods, it's now the turn of Congress men in Uttar Pradesh to do a similar encore on Sonia Gandhi.
A painting portraying Sonia as Goddess Durga in the local party office has caught everybody by surprise.
The "work of art", as termed by Congress district president A S Soni, was created by a painter who hung the " sample piece" on a wall at the party office here during the recent Assembly elections and asked party workers to contact him for more such paintings, if required.
"There is no objection to it since it is a work of art," Soni said when reporters asked why it was still there.
However, former MP and veteran Congress leader Hafiz Siddique is not ready to take Soni's argument. "This picture is objectionable as we cannot accept Sonia Gandhi in such a portrayal. In fact, nobody can accept such things as the Congress is a secular organisation and we are condemning this," he said. He also said he was surprised by the episode. — PTI