M A I N N E W S
The Tribune launches Haryana Plus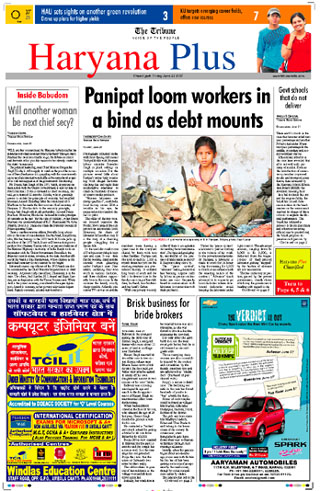 Over a period of time, our readers in Haryana have been asking for more news and features about the State and its people.
To meet this long-felt-need of the readers, The Tribune today has come out with a weekly pullout, Haryana Plus. This is in addition to the Haryana news being given daily in the main paper. Haryana Plus will cover all regions of the state and highlight political developments, growth of business and industry, agriculture, social issues and arts and culture.
Governance at the points where people come into contact with the administration, particularly in such areas as education, healthcare, housing, jobs and the environment, will be given special attention.
Backed by its news network, which has been expanding during the last few years, The Tribune will continue to give more news and analyses from across the country and comments from a battery of its eminent columnists on national and international events.
Readers in Haryana, like the readers of The Tribune elsewhere, will also continue to get more news about developments in South Asia with the newspaper having recently appointed correspondents in Islamabad, Kathmandu, Colombo and Dhaka.
Haryana Plus will have every week a column for citizens where they can air their grievances about the functioning of various municipal and local bodies, public services organisations and government departments.
The idea is to ensure that all public organisations, which are meant to serve the people, actually do so – and to their satisfaction.
The Tribune, as our readers know, is the Voice of the People and Haryana Plus will help them in making the administration more responsive and accountable.
H K Dua,
Editor-in-Chief