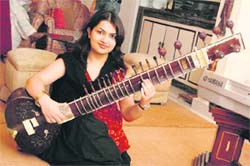 Romancing the Ragas
Purva Grover
It's seven on a Sunday evening and the Madan residence in Sector 16 is abuzz with activity. As a ritual, today, too, the family gathered here sharp at four in the evening. The youngsters took over the living room and placed the instruments at the right place — the synthesiser at extreme left, a mat spread in the center to place the sitar, the couch made comfortable for the singers and so on.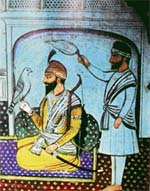 Treasure Trove
Clicking Culture
Anandita Gupta
HIS appetite for art is immense. And quite understandable, when you discover the philosophy that drives Kanwarjit Singh Kang: "You have to go on exploring art…until you die!" That explains, perhaps, the 65-year-old art lover's penchant for clicking and collecting 40,000 famous wall paintings of Punjab. And as if that wasn't enough, this fine arts professor has also authored 16 books on the art and culture of Punjab, Haryana and Himachal. Though teaching art remains a passion with Kang, his all-time love is clicking art - whether it involves getting down and dirty while travelling village to village on his bicycle with his camera, he is not bothered. Neither a mystic nor a romantic dreamer but a stern, realistic Punjabi litterateur -- Surinder Singh Narula will be hailed as an epoch maker in Punjabi novel writing for all times to come. The grand old man appeared on the literary firmament over sixty years ago rose to stardom with his novel Peo Puttar.  Born on November 11, 1917, to humble parents Jawahar Singh and Jaswant Kaur at Amritsar. After a post graduate degree in English literature from Khalsa College, Amritsar, he started teaching at Brijindera College, Faridkot, in 1948 and then moved to Government College, Ludhiana, and retired as its principal.

New releases
Rajni comes to town Abhiruchi Ranjan
Think kundan and the image of a newly-wed bride, adorned from head to toe in exquisite gold comes to the mind. However, city-based jewellery hub Anaha is all set to revamp kundan's image. Introducing its lightweight, colourful, customised kundan, Coldan presents delightfully colourful necklaces, pendants, earrings, balis, hangings et al. Anandita Gupta
IF all the world's a stage, perhaps Anais was born to be on it. No wonder, electrifying gesticulations fill the air as this petite French performer croons She only dates black guys. She is in the city to perform live, marking the World Music Day celebrations by Alliance Francaise, Steps, ICCR and the French Embassy. Anais set the city sizzling with sparks of spontaneity and drama. Playing around with everything from folk, blues and chanson to rap, ragamuffin and heavy metal, the lady created music that was magic. Saurabh Malik
SHE has scripted history of sorts. Fictitious conversations that Sukriti Vadhera, a city-based art director created between the assassinated and the assassins for promoting business interests of a Mumbai-situated café has won her a bronze at Cannes Lions 2007.The conversations scribbled in Sukriti's handwriting on a napkin, are between Mahatma Gandhi and Nathuram Godse, Lennon and Chapman, Martin Luther King and Ray. The campaign was an instant hit as it displayed the power of conversation. Imaginary dialogue between the champions and the 'bad men' of history has won a city girl a bronze at Cannes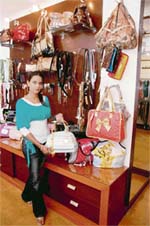 Chic Shop
Haute style
A touch of class, a little imagination and a hue of colours is Polka for you. Stocking everything from imported haute couture to custom-made designer pieces, the store that opened this Tuesday in Sector 8 promises to be a one-stop destination for city's fashionistas. Says proprietor Payal Saboo, "We are targetting women in the 16-36 age group." The store stocks apparel picked up from Hong Kong and Malaysia. And, while the store brings to you trends popular in that part of the world, its team of in-house designers does a little touch-up here and there to customise outfits.
SIDELANES
Ancestral lines
Joyshri Lobo
Major Ravinder Sharma, ex-Artillery, Signals and General Services in the British Indian Army, strode into our home to meet his cousin, my mother. At 92, her mama's son has a firm handshake, Grecian nose, fair skin, grey eyes and imposing height. The family consisted of scholars and medicine men in the BCs. They were called Tugnaits, but for some unknown reason, they adopted Sharma.