Faridabad emerges as multiplex city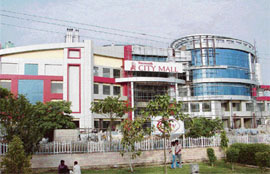 Bijendra Ahlawat finds that 30 malls may soon go on stream
Faridabad, the leading industrial hub of north India, may not be posing a serious challenge to neighbouring Gurgaon, the millennium city in overall development, but it certainly is trying hard to create a niche in certain ways. This includes emergence as a hot destination for real estate development and investment after Gurgaon and Noida in the NCR.

Multiplex may replace Nizam-era structures
A part of the heritage building is being converted to an entertainment zone, reports Ramesh Kandula
Environmentalists are up in arms against the Andhra Pradesh government over the construction of an ultra-modern shopping mall in the heart of the city on the ground that it would cause damage to the heritage buildings, which were once a part of the old Gandhi Medical College campus.

TAX tips
Income from residence abroad taxable in India
Q. I have migrated to the USA about 20 years back and have now come back to India. I am now in India for last three years and am informed that both my Indian and foreign income, if any, is taxable in India. I own a flat in Singapore, which has been let out to a company for the use of one of its executive officers. Is the income from there taxable in India? How would such income be computed?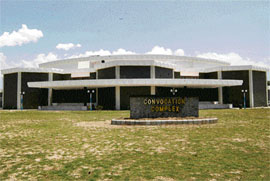 Valley's biggest auditorium
Ehsan Fazili talks about a convocation complex that took 27 years to get completed
Kashmir will soon have its biggest auditorium with a capacity to seat 2,500 in the shape of convocation complex at the University of Kashmir, Srinagar, which is under completion at the cost of Rs 8 crore. This complex, spread over 25,000 sq ft, is being touted the largest in north India and the best in the country.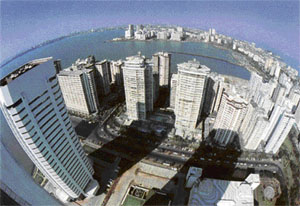 Mumbai costliest for expats
Soaring real estate prices are leaving a big hole in expatriates' pockets too, with Mumbai being ranked as the costliest city in India for them. The cost of living for expats in the four major Indian cities – Mumbai, New Delhi, Chennai and Bangalore – has increased over the past year primarily due to high real estate prices, says a new study by global human resources advisory and research firm Mercer HR Consulting.
GREEN HOUSE
Greenery over blue water
Satish Narula lists a few aquatic plants suitable for home-based waterscapes
Water is available aplenty during the rainy season. One can use this opportunity to go in for ponds and aquatic plants. It is easy to grow them after following a few do's and don'ts.
Buzz on Bourses
ICICI Pru files fund papers
Mumbai: ICICI Prudential Asset Management has filed initial papers with market regulator to launch a close-end fund to invest mainly in debt securities of companies likely to benefit from the real estate sector.
Appleconomics
Residents from the apple-rich belt in Himachal Pradesh are generating income from orchards and are purchasing property in the tricity, notes Kulwinder Sandhu


Price correction in
Jangveer Singh finds

that there is a demand-supply mismatch
Want to sell a 3-bedroom apartment in Shantiniketan. Price negotiable and there will be a considerable discount on the going rate of Rs 2,800 per square feet if settled quickly. Brokers excuse."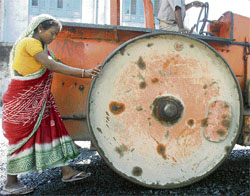 Developers' order books swell
Infrastructure boom makes construction one of the hottest sectors, says
R. Suryamurthy
Infrastructure development continues to be the prime focus of the UPA government as Prime Minister Manmohan Singh has set a target of 10 per cent annual growth by 2011-12. The construction sector accounts for 5.2 per cent of the GDP, 38-40 per cent of the gross domestic investment and is the second largest employer.
Morgan Stanley targets India with $8 b warchest
Morgan Stanley has raised the biggest property fund ever, a $8 billion warchest, to invest in established global markets, including Japan and Europe, as well as emerging countries such as China, India and Russia. Separately, Wall Street rival Goldman Sachs has raised a $4 billion global property fund, a source familiar with the situation said.
HOME DECOR
Off the wall
Devendra Malik talks about variety of finishing material available to jazz up the vertical space
Wall finish may be the last application in a design process but it needs to be based on crucial design decisions, which require thought and research. There are a variety of wall finishes available, the use of which have infinite possibilities. Paint and paper are the most widely used wall finishes.