FASHION
Haute shades
The latest in the market are smart goggles whose colour you can change with just a twirl of the tiny electronic knob in its frame, writes Hector Choksi on the ever-growing market of sun-glasses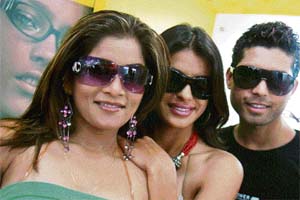 Sunglasses have come a long way since they were invented by American S.M.Foster 77 years ago. What is more pertinent is that, unlike the 1970s and 1980s, when Rayban was the ultimate as for as sun-glasses were concerned, today we have more than 50 international sun-glass firms competing to get the elite market among the Indians.
Actor icon Saif Ali Khan must be the person with the maximum number of sunglasses, a separate one for his workouts, swimming, meeting the press, for air travel and of course for film shooting. Next to him in Bollywood is Bobby Deol, whose collection is said to number 300.
What's in
The disco/retro look is in.

Bling-bling shades.

Aviators, Jackie-O's or Tortoise wraparounds.

Chunky aviators in dark or neutral shades are must-haves for this season.

For a toned down look try sleek, plastic frames in muted colours.

Designer shades displaying a patented pattern or the designer logo emblazoned on it.

Sporty wraparounds and partially rimmed or rimless shades.

Silver, gold or clear frames compliment the Indian complextion best.

Then again sun-glasses should be in proportion to the size of the face and the frame shape should contrast with the shape of the face.
The sun-glass market is said to be worth nearly Rs 200 crore and is still growing. Italian stylist Ferragamo recently came out with the Maharani brand, exclusively tailored to Indian conditions, and priced at Rs 50,000, and jeweller Cartier has models ranging from Rs 36,000 to Rs 62,000. The record price for sun-glasses was Rs 2.7 lakh, specially designed and bought for Amitabh Bachchan for one of his movies.
The latest in the market are smart sun-glasses, whose colour you can change with just a twirl of the tiny electronic knob in its frame. The price quoted is said to be about 1.5 lakh.
In case colours and crystals are too loud for your taste and solid sporty frames suit your personality, then Oakley brand might be what you are looking for. It's a brand endorsed by most of our cricketers for maximum eye protection. Oakley models have mercury reflectors for night play and some of the Oakley models have enhanced contrast sensitivity glasses that have typical yellow lenses. The latest Oakley model comes with attached earphones and a 256 MB MP3 player.
But you and I of the aam janata have to buy the sun-glasses for its health benefits, although sun-glasses have evolved from being an accessory to protect your eyes to being a trendy necessity to add that element of chic to any look. Some frames have become synonymous with the personalities that wore them, like Gandhi ovals, to more recently the JLO oversized aviators.
By now everyone knows—-or should know—-the importance of protecting the skin and eyes from the sun's ultraviolet radiation UVB, which burns the skin, and UVA , which ages the skin. Both can cause skin cancer and seriously harm the lens and retina of the eyes. Very dark lenses are not helpful. They force your eyes to open wider, getting more UV rays reach the lens.