The first Sikh cricketer to play for a team other than India has bowled over fans with his spinning heroics. Ramandeep Singh on England's lethal weapon Monty Panesar, who's gearing up to trouble Indian batsmen in the upcoming series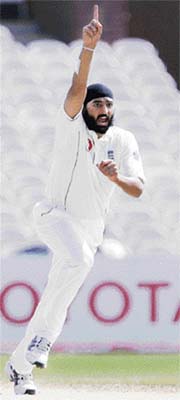 MONTY Panesar is fast emerging as the next 'big thing' in cricket. He has the talent and charisma to not only rival Shane Warne and Muttiah Muralitharan but also outshine them. Panesar, the first Sikh to play for a cricket team other than India, firmly underscored his worth to his team when he bowled England to victory in the third Test against the West Indies recently by grabbing 10 wickets — the first English spinner to do so in 10 years.
Monty has done us proud
Anil Datt meets the spinner's grandparents in Ludhiana
MONTY Panesar has his roots in Ludhiana. His paternal grandparents, Hari Singh and Manjeet Kaur, live in the city and feel proud of their Monty, particularly after his extraordinary performance in the Test series against the West Indies.
When Monty beat Castro
MONTY Panesar is the proud recipient of the 2006 Beard of the Year Award. Late last year, he edged out Cuban leader Fidel Castro in a poll conducted by the Beard Liberation Front, an informal network of beard wearers.
WONDER YEARS
When Garfield turned 29 recently, it was celebration time for the numerous fans of the cat with an attitude. With Tintin a doddering 77, and Archie reaching out for his walking stick at 66, Varuni Khosla cheers hard for Garfield, the baby of the toon family, and other classic toons
THE twentyninth birthday of Garfield the Cat on June 19 was celebrated around the world by its fans, but there have been in the recent past, a number of significant — though quieter — birthdays in the toon kingdom. Popeye turned 78 on January 17, Tintin became an aging reporter at 77 in March, Fred Flintstone noticed the first signs of grey hair as he blew the candles on his 41st birthday in February and Dennis the Menace neared retirement at 56 on March 12.