Monty has done us proud
Anil Datt meets the spinner's grandparents in Ludhiana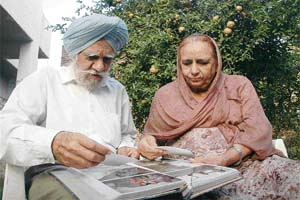 GOLDEN MOMENTS: Monty's grandparents go through his childhood photographs. — Photo by Sayeed Ahmed
MONTY Panesar has his roots in Ludhiana. His paternal grandparents, Hari Singh and Manjeet Kaur, live in the city and feel proud of their Monty, particularly after his extraordinary performance in the Test series against the West Indies. It was his brilliant bowling (23 wickets in four Tests) that helped England win 3-0.
Even in the midst of the cricketing season, Panesar does not forget to call up his grandparents in Ludhiana. His dada says Monty calls them up every now and then: "Wherever he is, whatever he does, he makes it a point to call us up." Hari Singh laughingly admits that now — after his grandson has come into the limelight — the neighbours, too, are curious about Monty's phone calls.
How do the grandparents feel about Monty playing against India? "Even then we would want him to put in his best," says his grandfather. He pointed out that once you play a game, you must play it well. And that remains to be the success mantra for Monty.
They are looking forward to the Indian tour to England from next month. One, they will watch their own country playing England, second, they will have their grandson playing against India. "It would be a wonderful spectacle to watch," exclaims Hari Singh.
Monty has not been able to visit Ludhiana for a long time. Last time, when he was in Mohali in March, 2006, for a Test against India, his grandparents had gone there to see him. "His schedule was so tight that he could not spare time to visit us in Ludhiana," they lamented, adding that they felt happy watching him in action.
"And not just us, the whole cricketing world watches him with the same fascination as we do," his grandparents say with a great sense of satisfaction.