When Monty beat Castro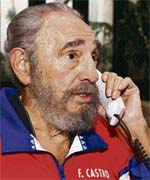 MONTY Panesar is the proud recipient of the 2006 Beard of the Year Award. Late last year, he edged out Cuban leader Fidel Castro in a poll conducted by the Beard Liberation Front (BLF), an informal network of beard wearers.
Archbishop of Canterbury Rowan Williams and veteran trade union leader Paul Mackney were tied for the third place after a vote of BLF supporters for the hirsute person who has made the most impact on public life in 2006.
Panesar had been a front-runner for the award right from the beginning, and BLF organiser Keith Flett said it was a combination of facial hair and on-field heroics which tilted the scale in the spinnerís favour.
"He may have a beard for slightly different reasons, but at the end of the day itís still a beard, and itís a magnificent beard," Flett reasoned.
Incidentally, Andrew Flintoff had won the inaugural edition of the award in 2004 and was declared joint winner, along with Paul Mackney, last year for his gingery-blond designer stubble.
The Beard of the Year Award is a prize awarded in December of each year in the UK by the BLF to acknowledge someone in the public eye who has created positive publicity for beards. ó Agencies