Stop-gap approach
With a makeshift manager and a captain still smarting from the World Cup debacle, Team India has its work cut out on the UK tour, writes Abhijit Chatterjee
THE coach-less Indian team begins its first overseas tour after the exit of Greg Chappell with a one-dayer against Ireland today. In former captain and chairman of selectors Chandu Borde, accompanying the team as manager, the players have a veteran to look up to, but he cannot be expected to handle a coachís on-tour responsibilities.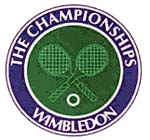 Return of rivalry
Ivninderpal Singh
Barely two weeks after sweating it out on the gruelling claycourt at the French Open, tennis players are gearing up for the fast grasscourt of Wimbledon, which begins on June 25. The menís draw will again revolve around Switzerlandís Roger Federer and Spainís Rafael Nadal.
Real glory
Simon Baskett
REAL Madrid snatched victory in the most exciting Spanish title race in over a decade thanks to a new-found team spirit, pragmatic style of play, steely determination and dash of good fortune. The nine-time European champions clinched their first major trophy in four years when they came from behind to beat Real Mallorca 3-1 at the Bernabeu in a thrilling finale on June 17.
IN THE NEWS
F-1 sensation
Alan Baldwin
Formula One rookie Lewis Hamilton says it is premature to consider his championship chances despite taking a 10-point lead over McLaren team-mate Fernando Alonso. After winning the US Grand Prix at Indianapolis on June 17 for his second victory on consecutive weekends, the 22-year-old Briton said his success had not changed his outlook.