PUNJAB

HARYANA

JAMMU & KASHMIR

HIMACHAL

REGIONAL BRIEFS

NATION

OPINIONS

MAILBAG

BUSINESS

SPORTS

WORLD

ADVERTISEMENT

Sunday, June 24, 2007, Chandigarh, India
Updated at 3:00 am (IST)

New Delhi, June 23
"Enough is enough," Kalam said, explaining his decision not to run for a second term and making it clear that he did not want to "damage" the name of Rashtrapati Bhawan.
Most testing moment
Pratibha files papers In video (56k)
Nation page
Loan defraud allegations against Pratibha Patil
BJP trains guns on Pratibha Patil
UPA rubbishes criticism of Patil


'I do not wish to become party to political process

Sunita 'Person of the Week'
I will not call her Miss Universe. I will call her India's daughter. — Deepak Pandya, Sunita's father, soon after the touchdown of the shuttle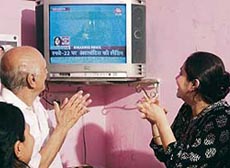 New York, June 23
Hours after she retu- rned to earth onboard shuttle Atlantis after a record 195-day stay in space, Indian- American astronaut Sunita Williams was chosen 'Person of the Week' by a leading US television network.

Vitthalbhai Patel, 79, uncle of Sunita Williams, claps as he watches, with family members, the televised landing of Atlantis at their home in Ahmedabad on Saturday. — PTI photo


In video (56k)
CAST YOUR VOTE
Are you proud of Sunita Williams' achievements in space?



India: The Tasks Ahead
SPECIAL SUPPLEMENT
125TH ANNIVERSARY CELEBRATIONS,
INAUGURAL SESSION



ADVERTISEMENT

CHANDIGARH

LUDHIANA

JALANDHAR

DELHI

HIMACHAL PLUS

HARYANA PLUS
New

AMRITSAR PLUS

LIFESTYLE

BRIDES WANTED

GROOMS WANTED

OTHERS

HOW TO PLACE ADVTS
In Spectrum today
Nation page


Relatives of Sunita celebrate her safe return


Sonia, Shekhawat felicitate Sunita
Police seeks govt's nod to arrest dera head
Chandigarh, June 23
Trouble for Dera Sacha Sauda head Gurmeet Ram Rahim Singh has increased, with the police seeking the Punjab government's approval to arrest him for hurting the religious sentiments of the Sikhs.
Punjab page


Khalsa march to avoid Salabatpura dera


Sant Samaj, radicals reject dera chief's apology
Hyderabad, June 23
Torrential rains lashing several parts of Andhra Pradesh for the past two days have claimed 45 lives and wreaked havoc in the coastal and Rayalseema regio- ns, inundating several areas, disrupting air, rail and road traffic and snapping communicat- ions and power supply.

A bus caught in the flash floods at Prakasham district in Andhra Pradesh on Friday. — PTI photo
Guwahati blast kills 5
Guwahati, June 23
Five persons including an 18-month-old girl and a seven-year-old boy were killed and over 20 injured when suspected militants belonging to the proscribed United Liberation Front of Asom triggered a blast near a Mosque in the Machkhowa area at around 7:40 am on Saturday.
| | |
| --- | --- |
| | |
| | HARYANA: Police rules amended for direct recruitment |
| | HIMACHAL: Mishaps claim 13 lives |
| | |
| | CHANDIGARH: Schools can't force change of subjects |
HOROSCOPE

E - Revolution 2005:
A Two-day IT conclave

Assembly Elections - 2005

Turbans

Chandigarh is 50

EARLIER FEATURES
EU agrees to reform itself
Brussels, June 23
European Union leaders clinched an agreement today on a mandate to overhaul the 27-nation bloc after persuading Poland to end a stand-off that nearly torpedoed a marathon summit.

Guru-ta-Gaddi Diwas
Badal wants UN recognition
New Delhi, June 23
Punjab Chief Minister Parkash Singh Badal today said the day commemorating the installation of Sri Guru Granth Sahib should be observed as an event of significance on national as well as international calendar as part of the global human awareness campaign. (Details on Nation page)

2 killed as ship sinks partially
Mangalore, June 23
Two crew members were killed and 14 rescued from the cargo vessel that partially sank near Thannirbhavi coast, about 13 km away from here last night, a top police official said.



Ram turns serious, Laxman playful
Raipur, June 23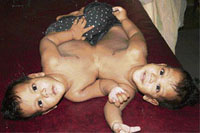 Nearly a year-old Siamese twins Ram and Laxman are behaving differently since they had been separated after a surgery last month here. While one is still the old playful self, the other has turned serious.
Sunita back
June 23, 2007

Sunita's return put off by a day
June 22, 2007

No new taxes in Punjab
June 21, 2007

Kalam reluctant to enter fray
June 20, 2007

NDA backs Shekhawat
June 19, 2007

Prez Poll: SP hints at abstention
June 18, 2007

Taxed, Badal plans desperate measures
June 17, 2007

Barnala in race for V-P's post
June 16, 2007

It's Pratibha Patil
June 15, 2007

Congress in Prez jam
June 14, 2007