M A I N N E W S
2 killed as ship sinks partially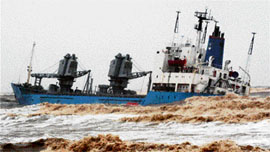 The ship, M. V. Denden, that partially sank off the Thannirbavi beach, near Mangalore, on Saturday. The 24-member crew is safe. — PTI photo
Mangalore, June 23
Two crew members were killed and 14 rescued from the cargo vessel that partially sank near Thannirbhavi coast, about 13 km away from here last night, a top police official said.
Efforts were on to trace eight others.
Rescue teams that swung into action to rescue 24 crew members trapped onboard the sunken "Den Den" vessel have retrieved two bodies and brought safely ashore 14 members, Dakshina Kannada District Superintendent of Police P Dayanand told PTI today.
Personnel drawn from Coast Guard and New Mangalore Port Trust fishermen have been making efforts to rescue the remaining eight crew members, he said.
The cargo vessel, owned by a company in Aritria in Africa and loaded with Furnace Oil Slag, was on its way to Dubai from NMPT port.
The ship while on its onward journey developed technical snag after its engines failed at Panambur beach and high velocity winds pushed it towards Thannirbhavi where it sank.
Details regarding whether the containers had developed cracks and furnace oil stored in them was leaking was not available immediately. — PTI