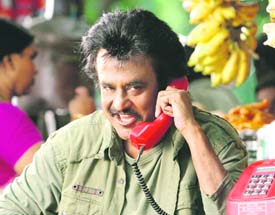 Rajnikanth
The Boss
This actor is loved by the masses for just about everything he is and does: His humble background, perseverance, super cool attitude, flamboyance, spirituality, trademarked flicking of cigarettes and down-to-earth ways towards one and all. His cult status has reached extraordinary heights with his latest Tamil film Sivaji: The Boss creating a history of sorts across the globe. Arup Chanda on Rajnikanth the man and the highest-paid actor with a fan following unprecedented in the Indian cinema
The south-west monsoon barely touches Chennai. But the day Sivaji: The Boss was released to packed theatres in Chennai, it started to pour from early morning cooling the entire atmosphere.
Pages from the heart
There is no dearth of books for children to gift them on their birthdays. Instead of buying one, Frau Huber sat day after day, putting the album together, writes B.N. Goswamy
"Question: What goes down into the sea but does not get wet? Answer: The Sun. Question: Which ring is not round? Answer: Herring. Question: In which month do sheep eat the least? Answer: February, for it has only 28 days."
Singing whales bag more mates
Male humpback whales who sing during their migration to their summer feeding grounds end up attracting more mates compared to males who donít sing, a new study by Australian researchers from the University of Sydney has revealed.
When melody set the mood
While the qualities intrinsic to a song are clearly absent among new singers, it is hard to believe that just half a century back, there were so many gifted artistes who left behind a treasure trove of music, writes M. L. Dhawan
With the advent of first talkie Alam Ara in 1931, the films started providing songs for every conceivable situation. Wazir Mohammad Khan who acted as a faqir in the film sang the first song of Hindi cinema De de khuda ke nam taqat hai gar dene ki composed by Ferozeshah and B. Irani.
The drama of war
The ambience in The Wind that Shakes the Barley is terrific, reminding one of the cobbled streets of Belfast. The film treads a chequered course to climax on a spine-chilling note, writes Ervell E. Menezes
Anti-war films come in various hues, from the sublime to the near-ridiculous depending, of course, on the treatment meted out to them. But the Irish problem, however, has come out with some real winners like for example Terry Georgeís Some Motherís Son and to a lesser extent Michael Collins.
FASHION
Fancy footwork
Dolly Sagar
The introduction of jutis was a fashion revolution brought into India during the Mughal era. During the earlier epochs there were of course cloth jutis , but they had not nothing to do with fashion. Those were the days when leather was supposed to be unclean and as such one had to wear cloth shoes. With the advent of leather jutis from Persia, we began the era of jutis as a luxury.
Puducherry
It has a heady French flavour
The French connection is hard to miss in the sights and sounds of Puducherry, for long known as Pondicherry. Mukesh Khosla says the best way to discover this town is on a cycle: pedal past chic boutiques and beautiful flowering trees. Or, meditate in the Aurobindo Ashram and soak in the air of this coastal town
The French dreams of an Indian Empire began and ended here. But there still remains an amazing amount of French influence simply because Puducherry has the largest number of French citizens outside France.
Fitness works for her
The Czech beauty who stormed the modelling and fashion industry seven years ago is an obsessive workout buff. She is now coming out with a book on fitness, says Nutan Sehgal
In the usually fickle world of modelling, she has remained one of the hottest properties and parlayed her fabulous looks to endorse big ticket products ranging from soft drinks and watches to denim and perfumes.


Single but not alone
The Ekal Nari Shakti Sangathan ensures a womanís right to work outside her home, keep her children and not be coerced into marrying her deceased husbandís kin, writes Neeta Lal on the plight of widows in India
Kamla (26) makes a pretty pictureóred sari, nail polish and a bindi-embellished forehead. She hardly seems the archetypal Indian widow. But scratch the surface and she recounts how life in her native Bikaner (Rajasthan) became tempestuous after her husbandís death in a road mishap. "Two kids, ailing parents and no money had left me completely rudderless," she recalls.
Sit in the sun and keep cancer at bay
AT last some positive health effects of sitting in the sun! Physicians have found that recreational sun exposure is apparently associated with reduced risk for cancers of the lymph system, or malignant lymphomas, German researchers report in the International Journal of Cancer.