Mission fitness
Purva Grover
Growing up on an overdose of Terminator and Rambo. Idolising Guruji, as they fondly refer to Premchand Dogra. Counting 10 for each set of 100 push-ups. The young muscle powers from the city have done it all, be it impressing the women or making the men envious. Now, these young guns in their twenty somethings are warming up to train the fitness enthusiasts in the city. Wrist curling, lifting weights, back hammer, squats —- flexing muscles is a way of life for boys in town. We walk down the fitness trail with the champs who are proud owners of their own gyms.
Saurabh Malik


Logging on to information in Punjabi is all set to become easier. Even if you have never transferred the files of Gurmukhi to the folder of your academic life, you will soon be able to access information through the Internet. For, guruji.com is coming up with a Punjabi search engine by the end of this year that uses English as an access medium.

Search in English, find results in Punjabi


Anurag Dod


Fanning fashion


Saurabh Malik


The sun is keeping the teenyboppers cool. In fact, the very idea of stepping out in the sun is not making them sweat as fan-fitted caps are keeping the out-to-chill crowd absolutely fresh. If you still haven't seen the youngsters giving vent to their fashion instincts by putting on these caps, just drive down the road meandering its way to higher education through the academic environs of college and varsity campuses.
Caps with a solar-powered fan right under the sunshade storm city markets. A perfect combo of functionality & style

Tribune photo by Manoj Mahajan
Who's the cutest vegetarian of all?
Aditi Tandon
THE Internet is coming alive in many different ways. And here's the latest one – further stirring up its campaigning for a vegetarian world, PETA India's youth division petaDishoom has just announced the first-ever Cutest Vegetarian Alive contest which is now open at www.petaDishoom.com More than a chance to show how "vegetarian-friendly" you are, the contest offers a solid peek into special preferences of celebrities around the world.

Matka chowk
Sreedhara Bhasin
India Shining
MY good friend and neighbour in Austin, Texas, took me out for dinner last night. She claimed that the embroidered cotton kurta that she was wearing had cost her a fortune. It didn't help when I laughed and said that she could have bought one in Chandigarh for a fraction of that price! After going through an year's worth of conversation, she talked about her youngest son, who had been suffering from strange stomach ailments and how they were exploring alternative methods of treatment, including homeopathy. I was surprised by her recently-acquired knowledge of homeopathic cures and promised to look up some shops in my hometown! And this, from a woman who has lived in the heartland of Texas all her life!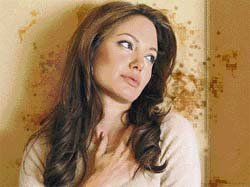 Jolie triggers Oscar buzz
THE 80th Annual Academy Awards is a good eight-months way, but the race has already begun and the early favourite for the best actress nomination is Angelina Jolie for her portrayal of Mariane Pearl, wife of slain journalist Daniel Pearl in 'A Mighty Heart'. The best part about the flick is that it doesn't reduce the Daniel Pearl story to a plot, but elevates it to a tragedy. The film about the Wall Street reporter's abduction by Pakistani militants and Mariane's search for her husband has earned rave reviews and has secured 82 pct ratings from critics.
Bookworms' Bliss
Swati Sharma
CALL it a hobby or a way to escape into your dream world, a necessity for some while relaxation pill for others. Book reading, however you perceive it, is a man's best friend. And though there are umpteen books released every week, not every one gets popular. We list a few famous picks for you.



Confused on which book to pick this vacation? Here are some of city's best sellers
— Tribune photo by Parvesh Chauhan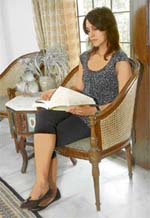 First Day First Show
Escapist fantasy


Rajiv Kaplish


It seems like the renaissance of the Red Curtain cinema. Even if the quintessential red curtain of yore is missing, mass adulation reaches a crescendo the moment the famous Rajnikanth swagger appears on the screen. Whistles, claps herald the arrival of the swashbuckling hero —audience— participation cinema at its best. Yes, you guessed it right. It's ''Sivaji — the Boss'' we are talking about, a movie about an NRI caught between politics and corruption in his homeland and his crusade to cleanse the system.

Shivaji
WATCHABLE

Write to Renee
* I am around 30, smart, attractive, intelligent but my girlfriend feels that something is missing in my personality. I am in the Merchant Navy and sail around eight months a year. Of the four months that I spend at home I just unwind and live a life of leisure. My girlfriend finds this very irksome and thinks that I really waste my time. I want to connect to my friends and do not see the need to lead a highly busy lifestyle when I am home. She is threatening to leave me if I do not change my behaviour. Can you help me understand where I am wrong?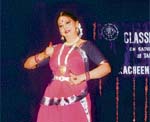 Week Ahead
Performing Art
Classical Dance: Enjoy kathak dance performance by Samira Koser of Jaipur gharana and her students. The programme is the concluding function of a month long workshop organised by Pracheen Kala Kendra.
Lata is back
Lata Mangeshkar, the queen of melody has come out of her cocoon after 17 years with her album titled Saadgi. She released the album on World Music Day. A T-Series presentation, the album has mostly ghazal-like compositions penned by Javed Akhtar. Directed by Anupam Sinha, it stars Mona Singh. The first song of the album, Mujhe khabar thi is a soft melody that touches the soul with its simplicity.