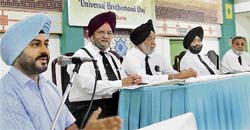 Delegates celebrate Universal Brotherhood Day in Ludhiana on Sunday. — Photo by IV
Ray of hope for father battling for justice
SIT to probe 4-year-old suicide case
Ludhiana, June 25
DIG Ishwar Singh has constituted a Special Investigation Team (SIT) to probe the suicide case of an IAS aspirant, Ashish Hansi, who hanged himself to death four years ago. The DIG has entrusted three police officials of the district with the inquiry.


GNIMT develops software for police
Ludhiana, June 25 The city police will no longer have to search dusty files to know about the career profile of a policeman and vehicles used by him.
SP(Headquarters) Snehdeep and GNIMT faculty members talk about a software developed by them in Ludhiana on Monday. — A Tribune photograph


Non-compliance with forum orders
Insurance officials in the dock
Ludhiana, June 25
The District Consumer Disputes Redressal Forum has initiated proceedings against officials of United Insurance Company on the charges of wilful non-compliance with its orders, even after a lapse of one year.


PU results out sans merit list
Ludhiana, June 25
Strange are the ways of Panjab University, Chandigarh. It has declared the results of a class without issuing the merit list. The students are left in the lurch to know the positions on their own. Despite repeated attempts by colleges and students, the university authorities do not even bother to give a satisfactory reply.


Mohit Ghai


100 Days of Badal Government
Gabria lists achievements
Ludhiana, June 25
Hira Singh Gabria, minister for jails, culture and tourism today said that during the first 100 days in power, the SAD-BJP government, led by Parkash Singh Badal, had mobilised the investments of more than Rs 25000 crore in the state and had launched infrastructure development projects, costing about Rs 7000 crores, with a view to accelerate the pace of investments further in the state.
Now,cops seek help to check drug addiction
Raikot, June 25
The local (rural) police has called upon activists of various social and religious organisations to join hands against the menace of drug addiction. The local police organised a seminar on the "Role of social organisations in curbing drug addiction", in association with a local branch of the Rotary Club at the bus stand road here today. DSP Narinder Singh Ruby presided over the function and Attar Singh Chadha was the chief guest.


International Day Against Drug Abuse
Need to focus on role of parents, teachers
Ludhiana, June 25
The slogan of the UNODC anti-drug campaign to be launched on International Day against Drug Abuse and Illicit Trafficking on June 26, is "Do drugs control your life ? Your life. Your community. No place for drugs." The slogan will be used for three years with focus on different aspects of drug control like drug abuse in 2007, drug cultivation and production in 2008, and illicit drug trafficking in 2009.


Uncovered manholes pose danger
Ludhiana, June 25
Monsoons are round the corner but a number of manholes are lying uncovered in Transport Nagar here. Residents fear that with the monsoons setting in, the roads would get waterlogged and people would not be able to anticipate these 'deathtraps' and serious accidents could occur.




An uncovered manhole in Transport Nagar in Ludhiana.
— A Tribune photograph
Park encroached upon, MC silent
Ludhiana, June 25
A resident of Laxmi Puri, Netaji Nagar in Salem Tabri here has complained that another resident of his area had encroached upon a piece of government land meant for a park but the municipal corporation authorities were not taking any action against the alleged encroacher despite repeated complaints.
MC's sangat darshan on Wednesday
Ludhiana, June 25
The Municipal Corporation (MC) will organise a sangat darshan on June 27 at its zone D office here to redress the grievances of the residents of the area.
Juvenile Justice
Ludhiana, June 25
Charnjit Singh Atwal, Deputy Speaker, Lok Sabha will attend a regional seminar on " A protective environment for South Asian Children; The role of Parliamentarians in the protection of children in the Juvenile Justice System" being held at Islamabad from June 21 to 29.


Heat wave claims mule
Ludhiana, June 25
Heat wave claimed the life of a mule on Jagraon brigde in the afternoon here today. The mule collapsed on the bridge after a brief halt and breathed its last.



A grieving Isharat Ali sitting near the carcass of his mule that collapsed due to heat in Ludhiana on Monday. — Photo by Sayeed Ahmed
11 trucks with ration flagged off
Mandi Ahmedgarh, June 25
Amrit Lal Garg, president, Shiv Shakti Sewa Dal, Malerkotla, and Sukhdev Singh, SHO ( City), flagged off 11 trucks having ration for langar to be organised at Bal Tal, a pilgrimage spot in Jammu and Kashmir.