Taj deserves the crown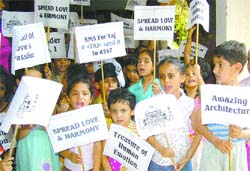 Students of Spring Dale School hold placards urging residents to vote for the Taj and ensure that it makes it to the coveted list of Seven Wonders of the World. — Photo by Rajiv Sharma
Big Bonanza
MBBS seats doubled in SGPC-run college
Amritsar, June 26
The SGPC has decided to double the MBBS seats in the Sri Guru Ram Das Institute of Medical Sciences and Research at Vallah after the Medical Council of India (MCI) gave its approval in this regard.
Border farmers' grievances to be resolved: Govt
Amritsar, June 26
Adopting small-time trades like dairy, poultry, fish farming, etc., along with farming can save farmers from the financial debt trap. This was stated by Member of Parliament from Tarn Taran Rattan Singh Ajnala while inaugurating a veterinary camp at Attari, near the Wagah border. The veterinary fertility and women awareness camp was organised by the department of animal husbandry.
Tubewells installed, no money to run them
Amritsar, June 26
Even after passage of six months, the Improvement Trust has failed to make its four tubewells, installed in the northern area of the city, operational due to its failure to deposit the requisite amount with the Punjab State Electricity Board.
Woman alleges dowry torture, illegal confinement
Amritsar, June 26
In a complaint submitted to district police chief Kamaljit Kaur, a resident of Vijay Nagar locality, has levelled allegations against her husband and in-laws for demanding dowry.
Wage a war on drugs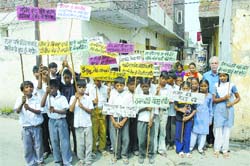 Students of Citizens' Forum Vidya Mandir School during a rally to mark the International Anti-drug Abuse Day in Amritsar. — A Tribune photograph
June 28 meet to decide fate of club troika
Amritsar, June 26
BJP MP Navjot Singh Sidhu has arranged a meeting of the representatives of the managements of the three clubs situated in the historic Ram Bagh with Chief Minister Parkash Singh Badal on June 28 to finalise a decision on the future of the clubs.
'Apologise for partition killings'
Amritsar, June 26
Veteran journalist Kuldip Nayar has demanded that the parliaments of both India and Pakistan must apologise to the people of the two countries for the massacre of 10 lakh persons during Partition. He was speaking at a meeting held at Bachat Bhavan here recently.
RSS camp concludes
Amritsar, June 26
A summer camp, organised by the Rashtriya Swayam Sewak Sangh (RSS), for the young students concluded at Madhav Vidya Niketan School.
Fun Game
Hello students, its holiday time and you all might be enjoying your vacations. Some of you might have joined summer camps or hobby classes, etc., but some might be enjoying by sitting and relaxing at home. Do you want to utilise your free time? Let us learn a fun game. Play it with your friends and impress them.
Alertness

Awareness of collision factors

Vulnerable roads

Awareness of collision factors

Rules of the road
One-man army against stray canines
Amritsar, June 26
Spearheading a lone campaign against the menace of stray dogs and the incidents of dog bites in the city, Ravinder Kumar, a resident of Green Avenue, is determined to take the indifferent administration and authorities concerned to task. His plea in the Punjab and Haryana High Court was dismissed but his aim knows no boundary.
SAD (A) for probe into Chattisinghpora massacre
Amritsar, June 26
The Shiromani Akali Dal (Amritsar) has welcomed the statement of Parliamentarians for National Self-Determination, demanding an unbiased enquiry into the Chattisinghpora massacre in Jammu and Kashmir by a national investigating agency, during a conference in House of Commons, United Kingdom, recently.
Kundan goes chic
Think kundan and the image of a newly-wed bride, adorned from head to toe in exquisite gold comes to the mind. However, city-based jewellery hub Anaha is all set to revamp kundan's image. Introducing its lightweight, colourful, customised kundan, Coldan presents delightfully colourful necklaces, pendants, earrings, balis, hangings et al.
NGO seeks ban on superstitious soaps
Amritsar, June 26
Tarksheel Society has called on the Information and Broadcasting Ministry to stop serials based on superstitions on various television channels. Serials projecting blind faith like, witches, ghosts etc must go off air immediately, the society has demanded.