India Shining
Down Under
The growing influx of full-fee paying Indian students is reaping rich dividends for Australia. India is now the second largest source of overseas students and a significant contributor to Australia's international education market, which is worth A$9.8 billion to the national economy.


Careercature
Sandeep Joshi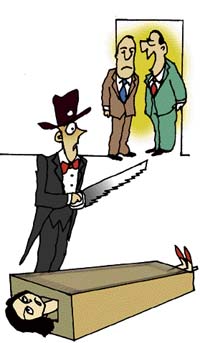 Sir, he can be a good accounts manager and reduce expenses by half.

Work at a good first impression
R.C. Sharma
You have got the coveted job after stiff competition. The D-Day has come, and you are ready to join duty. Every new employee is too eager to perform and hence also anxious to impress with his abilities, ideas and make an impact with his work.


Lessons and lucre
Students combine both
Welcome sir, may I help you?" With an endearing smile on her face, the teenager makes you feel comfortable and warm in the coffee shop every time you walk in. From mopping floor to serving fries, she does it with pride and elan. Well versed in English, she and her mates are suave, smart, trendy, working swiftly to serve Indians and foreigners pleasantly.


Bits & bytes
IIM-L course on environment management
Realising the importance of teaching environmental management strategies to the future business managers, IIM-L has announced a Management Development Programme (MDP) on Corporate Environmental Management and Carbon Markets.


Bag a job in direct selling
The shortage of time for people in today's busy life has a brighter side for direct sellers with the industry being pegged for a quantum jump in the next few years.


Go places with International Business
Varun Salwan
With globalisation and increasing competition from MNCs and foreign competitors, all budding business managers today must be exposed to the global environment. That's why even domestic companies insist on hiring managers having knowledge of the international business scene.


Aviation varsity to take off soon
S.C. Dhall
The aviation sector in the country is growing at a rapid rate of 25 per cent per annum, creating large-scale job opportunities. The aviation industry is facing a shortage of skilled staff at all levels — pilots, cabin crew, customer care personnel at the airports, including airport managers, and ground handling personnel.


Smart Skills
All in the game
Usha Albuquerque
Cricket may be at a current low, but with Jyoti Randhawa doing well in golf, and Sania Mirza moving up the ATP rankings, we still can cheer. Moreover, Narain Karthikeyan's racing laurels, and Raghavendra Rathore's medals are admirable feats to boost India's sporting achievements. But a few swallows do not make the summer of sporting success.


Career Hotline
Nurse your dream
Pervin Malhotra
Q What are the rules for migrating to Denmark, especially for a nurse like me? What is the population of Indians in Denmark?
— Kanika Goel
A Denmark has a job card scheme under which those finding employment in specific job categories become immediately eligible for residence and work permit for a maximum of three years, subject to extension.

Online MBA

Opportunity calling

Gender issues

Tutored success

Social responsibility

Soft skills

Write chance