M A I N N E W S
Blair resigns after decade in power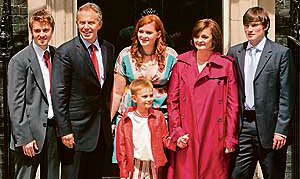 Outgoing British Prime Minister Tony Blair (2nd L) and his wife Cherie (2nd R) bid farewell to the media on the steps of 10 Downing Street, in central London, on Wednesday with their children Euan, (L) Kathryn, (3rd L) Leo (3rd R) and Nicky. — AFP
London, June 27
After staying in power for a decade, British Prime Minister Tony Blair tendered his resignation to Queen Elizabeth II today.
Blair came out from Buckingham Palace accompanied by his wife Cherie after an audience with the Queen, who was expected to soon summon Chancellor of Exchequer Gordon Brown to form the government.
Earlier, Parliamentarians gave Blair a standing ovation at an emotional last question-and-answer session in the House of Commons, before the former PM declared "that is that. The end."
Blair, who has faced flak over the Iraq war, fuelled speculation that he would assume the role of peace envoy to the Middle East, saying a two-state solution is the only way to end the hostilities there.
"I believe it is possible to do that, but it will require a huge intensity of focus and work," added Blair, who had Brown by his side.
Brown followed Blair to the Palace in a separate motorcade.
During his last session with lawmakers, Blair said he was "sorry" for the danger faced by soldiers fighting in Iraq and Afghanistan but remained defiant, refusing to accept criticism that British troops are fighting in vain.
"I don't and I never will. I believe they're fighting for the security of this country and wider world against people who would destroy our way of life," he said. — PTI

London, June 27
James Gordon Brown, a self-proclaimed admirer of India, today took over as Prime Minister of Britain amid expectations that the relations between New Delhi and London would develop further with this development.
Queen Elizabeth II swore in the 56-year-old Labour party leader at the Buckingham Palace shortly after Tony Blair stepped down after holding the top post for a decade.
Brown, Chancellor of Exchequer, took over as leader of the Labour Party on Sunday from Blair who stepped down in the backdrop of decline in his popularity for joining the US-led campaign in Iraq.
This is the first time that a changeover has occurred without a general election.
Blair (54) became the Prime Minister in 1997, bringing to an end the 18-year-old rule of the Conservative party, after the Labour emerged victorious with the biggest majority.
Son of a preacher of Scotland, Brown rose from an academic to become the Prime Minister, capping his 24-year political career.
A respected politician, Brown has special interest in strengthening and deepening relations with a "pulsating, dynamic India" and has recently talked of according high priority to ties with New Delhi.
Just before demitting office, the former PM addressed the House of Commons and defended his decision to send British troops to Iraq and Afghanistan. "I am truly sorry about the dangers they (British troops) face today in Afghanistan and Iraq," he said.
"I know some people, they think, they (troops) face these dangers in vain. I don't and I never will," Blair said, adding, "I believe they are fighting for the security of this country and wider world against people who would destroy our way of life."
The decision to send British troops to Iraq is widely believed to have cost Blair his Prime Ministership.
With the change of guard at 10, Downing Street, the warm and friendly relationship between India and the UK is expected to develop further.
Indicating his inclination to take the relationship further, Brown recently said, "There is so much that impresses one about India, particularly its vibrant democracy." He recalled that he had been brought up on stories of India's great history, its struggles, achievements and "essential greatness."
During his visit to New Delhi in January, Brown repeatedly emphasised that India and Britain together with their shared history, culture and common values of understanding and tolerance, could work in unison to "play critical role as partners in addressing the great challenges of our times." — PTI