PUNJAB

HARYANA

JAMMU & KASHMIR

HIMACHAL

REGIONAL BRIEFS

NATION

OPINIONS

MAILBAG

BUSINESS

SPORTS

WORLD
ADVERTISEMENT
Friday, June 29, 2007, Chandigarh, India
Updated at 3:00 am (IST)

Fake Stamp Paper Case
Telgi gets 13-yr RI, Rs 100-cr fine
Pune, June 28
Abdul Karim Telgi, the kingpin of the multi-crore fake stamp scam, was today sentenced to rigorous imprisonment (RI) for 13 years and fined over Rs 100 crore by a court here after he dramatically broke down while pleading guilty and seeking leniency.


Harshest, highest-ever: This is the harshest punishment given to Telgi in any of the fake stamp paper cases he has been convicted for so far in Maharashtra and Karnataka. The fine was also one of the highest-ever imposed by a court.
Wife pleads not guilty

She will tell media on July 1: Cong
Prove it: Pratibha
New Delhi, June 28
UPA presidential candidate Pratibha Patil, who is in the eye of a series of controversies over various issues ever since her nomination, today dared the Opposition and the media to come out with proof for their allegations against her.

Nation page


Cong presents facts about 'clean' Pratibha


Pratibha to face media on July 1: Cong
CAST YOUR VOTE
Can private sector participation help in universalising education?



India: The Tasks Ahead
SPECIAL SUPPLEMENT
125TH ANNIVERSARY CELEBRATIONS,
INAUGURAL SESSION



ADVERTISEMENT

CHANDIGARH

LUDHIANA

JALANDHAR

DELHI

HIMACHAL PLUS

HARYANA PLUS
New

AMRITSAR PLUS

LIFESTYLE

BRIDES WANTED

GROOMS WANTED

OTHERS

HOW TO PLACE ADVTS
HOROSCOPE
In Science & Technology today
Jalandhar Plus

SC to decide how Maya assets swelled so quickly
New Delhi, June 28
In the wake of Uttar Pradesh Chief Minister Mayawati declaring assets worth Rs 50.27 crore, the Supreme Court was today approached for knowing the source of her income which had registered a 400 per cent increase since her last declaration made at the time of filing her nomination to the 2004 Lok Sabha election.



Editorial: Maya's riches
Dera Row: Khalsa panel splits; Sant Samaj recalls 2
Amritsar, June 28
In a major jolt to the Sikh hardliners, who have been spearheading a campaign against Dera Sacha Sauda, the 15-member Khalsa Action Committee (KCA) has been split, a day before its crucial meeting scheduled to be held at Fatehgarh Sahib.



Haryana page: The day after, dera followers take out protest march


Punjab page: Cong questions role of govt


Editorial: Dera dispute
| | |
| --- | --- |
| | PUNJAB: Cong questions role of govt |
| | HARYANA: Stir threat by Dalits |
| | HIMACHAL: Taxis off the road in Shimla, Dharamsala |
| | |
| | CHANDIGARH: Bloody clash at gurdwara |
Haryana Plus

E - Revolution 2005:
A Two-day IT conclave

Assembly Elections - 2005

Turbans

Chandigarh is 50

EARLIER FEATURES
India joins 1 lakh millionaire league
New Delhi, June 28
Riding high on strong economic growth and robust gains in stock markets, the number of millionaires in India has crossed one lakh mark — emerging as the world's second fastest growing nation after Singapore.
Gene-Engineering
Scientists take step towards synthetic life
Washington, June 28
Scientists have taken a first step towards making synthetic life by transferring genetic material from one bacterium into another, transforming the second microbe into a copy of the first.
Cabinet nod for bill on clinics
New Delhi, June 28
The Union Cabinet today gave its approval for introduction of the Clinical Establishments (Registration and Regulation) Bill, 2007 in Parliament.


Red Fort declared world heritage site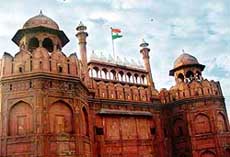 New Delhi, June 28
Delhi's historic 17th Century Red Fort complex, or Lal Quila as it more popularly known, has found its way into the Unesco list of world heritage sites.


In video (56k)

Congress exerting 'undue pressure' on voters: NDA
June 28, 2007
Sena, BJP in a scrap
June 27, 2007
Shiv Sena to back Pratibha
June 26, 2007
Rains claim 19 lives in Maharashtra
June 25, 2007
Enough is enough: Kalam
June 24, 2007
Sunita back
June 23, 2007
Sunita's return put off by a day
June 22, 2007
No new taxes in Punjab
June 21, 2007
Kalam reluctant to enter fray
June 20, 2007
NDA backs Shekhawat
June 19, 2007