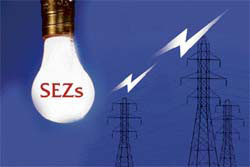 Power to drive SEZs
With a requirement of 40,000 MW for SEZs alone, power will be the vital ingredient for their success, assert R. Suryamurthy and
S. Satyanarayanan
Despite the controversy surrounding the Special Economic Zones, the Board of Approval (BOA) for the SEZs recently gave formal approval to 36 and in-principle approvals to nine such zones.
'Realty prices to come down'
Mumbai: HDFC Chairman Deepak Parekh has said interest rates have peaked and were likely to remain stable in the next six months while real estate prices could fall by up to 20 per cent in the next few months.
TAX tips
Rebate on 2 home loans allowed within limits
Q I am a salaried person residing in Yamunanagar, Haryana, I have 2 flats with 2 home loans detailed as under:
GRound REALTY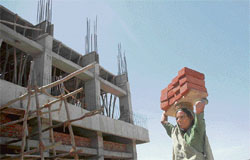 Be vigilant on ready mix concrete
Always check the type and strength of the material, suggests Jagvir Goyal
Recently, there has been a spurt in ready mix concrete (RMC) buyers. A few articles carried under this column and advising the users to switch over to RMC fuelled up the buys. A house builder, a cooperative society, a builder finds it much easier to order for RMC, receive it and get it poured in slabs, beams and columns instead of arranging cement, sand, aggregates, mixers, labour etc and then getting all headache of monitoring various factors for a good quality control.
Buzz on Bourses
Somany inks venture with Spanish firm
Chandigarh: Somany Ceramics, India's leading tile manufacturer has announced a marketing joint venture with Keraben Ltd. of Spain. The new company to be called Somany Keraben Pvt Ltd would launch Synergy brand. It will leverage Keraben's manufacturing facilities in Spain and other parts of the world, as also the ultra modern facilities of Somany under installation, bringing in the best through Spanish technology, Spanish glazes and designs.
Estate talk


Vatika to bloom in Ambala
The cantonment town of Ambala is set to get a face-lift. The mandatory visit to City Beautiful for meeting the aspirational needs may soon be over with leading real estate developer coming up with Vatika City Central project in the heart of town. "The township would be self contained. It is located in the heart of Ambala surrounded by well developed sector 7, 9 and 10 in the city" says Pankaj Pal, president sales and marketing, of Vatika Group.
3-year lock-in stares at FIIs
The finance ministry has proposed a three-year lock-in for investments made by foreign institutional investors (FIIs) in real estate firms through pre-IPO placements to check speculation in the booming sector.


From apple state to cement bowl
With a boom in the construction sector the hill state of Himachal is gearing up to churn out 'grey gold' at a fast pace, discovers Rakesh Lohumi
With a boom in the construction sector the hill state of Himachal is gearing up to churn out 'grey gold' at a fast pace, discovers Rakesh Lohumi. The ongoing construction boom in the country, particularly the northern region where a large number of hydropower plants, mega infrastructural, commercial and housing projects are coming up.


A view of the ACC cement plant at Barmana in Bilaspur, Himachal Pradesh.—Photo by Mahesh Chander Sharma
Construction sector poised to grow, says Assocham
| | |
| --- | --- |
| Domestic construction enterprise is poised to grow at the rate of 15 per cent per annum from about 10 per cent now to touch $120 billion by 2012 from its current size of over $70 billion and the manpower requirements for the industry will be over 900 lakhs man/years by the projected period. | A cement plant near Satna, Madhya Pradesh |
Housing Blues
International funds may cushion the fall
"The grave dancer", US tycoon Samuel Zell was in a mood to spoil a two-year-long party when he told a gathering of Indian property executives this week they were "on the brink of excess" and their boom would end in tears.
Enhanced supply may control soaring price, says IMF official
The "homely wisdom" that housing is the best investment, since population and incomes go up every year over the fixed supply of land was dismissed as fallacious by a top official of the International Monetary Fund (IMF) in New Delhi.