COLUMNS



THIS ABOVE ALL

TELEVISTA

GOOD MOTORING

AUDIO SCAN

MUSIC ZONE

WEBSIDE HUMOUR

FOR CHILDREN



CROSSWORD

RHYME TIME

ROOTS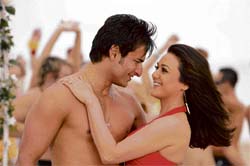 Foreign locales are a hit with Bollywood film-makers. A scene from Salaam Namaste
Where East meets West
The taste, character, personality and complexion of the Bollywood audience has changed over the years. With more and more Indian films being shot in foreign locales, they are being lapped up by not only Indians and NRIs but also non-Indians. Will this change redefine Indian cinema? Shoma A. Chatterji scans the scene
"Indian movie theatres are like community centres. It's a very cheap round-trip home." — Suketu Mehta, Maximum City, Bombay Lost and Found.
With more than 200,000 Indian tourists spending £ 140 million a year in Britain, and the influx growing by 1.3 per cent a year, the British Tourist Authority (BTA) is keen to cash in on the tour circuit.
Images across cultures
Firestone identified two different images of globalisation in 1995. These are: the image of the extension outwards of a particular culture to its limits — the globe; and the compression of cultures, where things formerly held apart are now brought into contact and juxtaposition.

Games people play
Back in the early 1970s, it took just one movie to change the fortunes of Hollywood and redefine the way films would be made. The Godfather enhanced everything. From technique to performances and from dialogue delivery to audience reactions around the world. No movie had ever done that before and no movie has ever done that since.
Gaming industry… booming market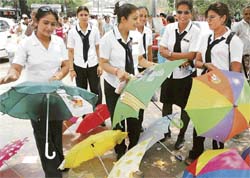 fashion
Drenched in style
As the skies open up you must be wondering what to wear during these rain-soaked monsoon days. Don't fret. Gone are the days when a dull grey rainy morning meant wearing your dullest clothes and taking your black grandfather umbrella to the office. Monsoons now mean wearing a lot of bright colours and dressing up to combat the gloomy weather. Designers might differ on their choice of colours but almost all of them agree that monsoon fashion is definitely in. And so are bright colours.