Where East meets West

The taste, character, personality and complexion of the Bollywood audience has changed over the years. With more and more Indian films being shot in foreign locales, they are being lapped up by not only Indians and NRIs but also non-Indians. Will this change redefine Indian cinema? Shoma A. Chatterji scans the scene
"Indian movie theatres are like community centres. It's a very cheap round-trip home."— Suketu Mehta, Maximum City, Bombay Lost and Found.
With more than 200,000 Indian tourists spending £ 140 million a year in Britain, and the influx growing by 1.3 per cent a year, the British Tourist Authority (BTA) is keen to cash in on the tour circuit. This means wooing India's five million-strong wealthy middle class and young business travellers. Product placement of Scotch whisky and Pringle sweaters in some films forms part of a 'branding' of Britain, while Bollywood stars regularly pose in union flag knitwear in tourist brochures and India's 300 Bollywood magazines extolling the "splendour of Kew Gardens."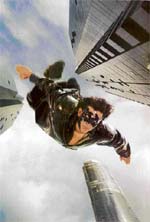 Krrish was one of the top grossers in the UK last year
The BTA offers incentives for big Bollywood blockbusters to be filmed on location in Britain. The huge success of Karan Johar's Kuch Kuch Hota Hai (1998), Aditya Chopra's Mohabbatein (2000), Karan Johar's Kabhi Khushi Kabhi Gham (2001) have helped establish Britain as the most favoured nation among Mumbai film-makers. Sometimes ridiculed by homebred intellectuals for archetypal song-dance sequences that have no link with the main story, mainstream Indian films, mainly Hindi, are ironically finding a growing audience abroad. While expatriate Indians in the UK, US, Gulf and East Asian countries have offered a ready welcome to films from India, the sudden interest in Indian films based on Indian themes or with an international backdrop are finding favour also among non-Indians beyond Indian shores. More and more people across the world, both Indian and non-Indian, are watching more and more Indian films. Indians settled abroad are making Indian films targeted at the NRI and the domestic Indian market at home. Indian film-makers are making films in English, thus widening the canvas of audience-reach across the English-speaking world. Indian films are being sold at astronomical prices in the foreign market. They have topped the box office charts in the UK for the past few years. The world in short is Yash Chopra's oyster. And Bollywood's ever-growing production has tucked the world audience neatly into its pocket.




The huge success of Karan Johar's Kuch Kuch Hota Hai (1998), Aditya Chopra's Mohabbatein (2000) and Karan's Kabhi Khushi Kabhi Gham (2001) has helped establish Britain as the most favoured nation with Mumbai film-makers.
It has led to the concoction of new terms like Bollywood to rhyme with Hollywood, diaspora, to signify NRI Indians making films, Indian-English films that define Indian films in English dialogue, and crossover films to suggest a whole plethora of meanings – NRI film-makers shooting films in India, Indian film-makers shooting films abroad, foreign actors and technicians working with Indian film-makers, Indian actors and technicians working with foreign producers, co-productions, foreign film-makers making films on Indian stories, etc, etc.
Film-makers are making films with Indian stories and themes shot in India and abroad. Mira Nair, Deepa Mehta, Pamela Rooks, etc offer an outsider's look into an India they are not really familiar with. Their films seem to vacillate between polarities – spatial, cinematographic, narrative and economic – creating films that either depict people living in the margins of society, or show lavishly rich people wallowing in wealth. Mira Nair's Salaam Bombay and Monsoon Wedding are illustrations in point. Deepa Mehta's Fire was jarring more because she decided to make it in English than because of its lesbian focus. Gurinder Chadha walks the tight rope very well because she chooses to make English films on Indians who have grown up and lived abroad for a long time. She is one too and invests her films with the life and spirit of her own people. Her Bhaji On the Beach, Bend it like Beckham and Provoked explore the confusions of people living with dual identities and are more credible than the films of Nair and Mehta. Nair's latest film Namesake however, throws up a microcosm of globalised cinema at its best.
Sadly, however, quite a few among this young crowd are fly-by-night operators who make one or two films and then disappear from the scene. Raj Basu, whose maiden film Wings of Hope, was premiered in Calcutta, says, "Drugs, pre-marital sex, abortion – these may be PG-rated in America. But these issues are a real problem for the first-generation Indian-American. The challenge for the characters in Wings of Hope becomes a movement from confusion to clarity. This is a story of redemption. I tried to portray the restiveness Indian youth in the US faced in the 1990s. The constant conflict between the older generation of Indian immigrants who insist that their children stick to Indian morals, while the children believe that born and bred in the US, they are too Americanised to stick to Indian morals – these were the facets of life I wished to bring out in my film." But nothing else noteworthy has come from his stable till date.
The taste, character, personality and complexion of the audience has changed over the years. The question is not about what culture mainstream Indian films produce. The culture it produces is defined and redefined by the time, the place and the socio-political context in which it functions. Not to leave out the basic question of economic viability without which the industry's existence is threatened. The question is about its cultural identity. Does Indian mainstream cinema have a cultural identity that is predominantly and obviously Indian? Or, has it become rather hybrid with influences of Hollywood pervading the screen with sexual innuendo and graphic violence? Is the Indianness of Indian cinema under threat of succumbing to the commercially motivated pressures of external values and norms? Or is it being redefined by the stimulus it receives from the western, specifically Hollywood brand of cinema?
Answers to these questions are undercut by the fact that culture itself is in a constant state of flux. It is being influenced and determined by the changes taking place in our social, economic and political domains. Culture is not a monolith that defies change. It does not exist in a vacuum. Nor is it bound within the framework of geographical parameters that stand threatened by modern warfare and communicational globalisation via the electronic media. Culture, therefore, is "hybrid" in its sense of defiance of all western notions of what constitutes "Indian culture." It is hybrid in the way it resists all Indian academic attempts to entrap it within predetermined concepts and preconceived notions of scholastic terminology.




Yash Chopra: The world is his oyster
Outwardly, mainstream Indian cinema, like everything else in the country, involved in and committed only to profiteering and power, seems to be playing second fiddle to the West. It is aping cultural attitudes and lifestyle. In actual fact, however, its identity can be better sold and marketed through the Indian ethos and image. This is precisely why Hollywood has not been able to eclipse the mass popularity of mainstream cinema here the way it has almost destroyed the film industry in many countries in Europe, including those in the Eastern bloc that have surrendered to the open market policy of bourgeoisie capitalism.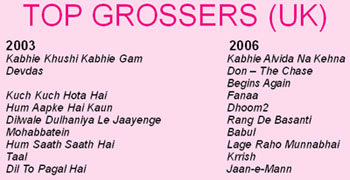 Does this mean that Bollywood films are now better films across the international landscape? The cultural fusion within a brief span of time has been incredible. Every other day, there is one Bollywood release lifted from a Hollywood original. The costumes, make-up and attitude the stars wear are a blend of the Indian and the western. The musical scores and songs, thanks to talented composers like A.R. Rahman, define happy marriages between pop and bhangra, classical, jazz, heavy metal and the Blues. Some characterisations lean heavily on permissive westernisation. The dialogues in Hindi films are generously sprinkled with English. We have some of the best cinema technicians in the world, including directors. We have excellent actors and actresses, too. But put together, the actors sell themselves to stardom and to money via brand images. But this also means their faces are becoming more familiar to world audiences.
The producer, director, distributor and financier seem to have willingly trapped themselves in a vortex of (a) technique and special effects, (b) trying to catch a big slice of the international market, and (c) using largely hyped publicity in their pre-release promos. These sometimes work to the detriment of the film but, mostly, they hit the target. Indian films have done well only when they are truly Indian in soul and spirit, in storylines, music and dance and costume. Lage Raho Munnabhai and Taal are good examples.
Are western intrusions into the Hindi mainstream film ethos really disturbing? Not really because the emphasis is not on the inner struggle between modernity and tradition. Nor is it on any deep ambivalence towards the West. The function of the Hindi film, according to Shyam Benegal, the noted film-maker, is to externalise an inner psychological conflict and handle the inner passion generated by social and political processes as problems created by events and persons outside. These events and persons are both ideal types and representatives of different aspects of a fragmented self. These fragments are separately controlled.
The Hindi mainstream seeks to sustain this control by sharpening the focuses of these differences — the hero and the anti-hero, the heroine and the anti-heroine. Hindi cinema does this because integration of these separate fragments into a unified whole would highlight the gray elements of characterisation that it does not wish to adhere to. The cinematic influences of a foreign culture cannot uproot the cultural roots of a nation dotted with a largely illiterate mass population nurtured on a steady and generous diet of mythology, folklore, theatre, folk arts, music, all of which are reflected, represented, interpreted, distorted and questioned in and by popular cinema.