Firestone identified two different images of globalisation in 1995. These are: the image of the extension outwards of a particular culture to its limits ó the globe; and the compression of cultures, where things formerly held apart are now brought into contact and juxtaposition.
Rapid globalisation and the advances made in electronic communication have created an ambiguous relationship between western and Indian traditions. Till about 25 years ago, the socio-political backdrop in which culture evolved underscored traditional Indian values of simple living and non-materialistic goals as the ideal.
The growth of the urban middle class, a chunk of which is composed of the urban slum, has brought in its wake a paradigmatic change. Materialistic goals have neatly and definitely replaced ideology. This is a spin-off of globalisation. The family as the basic unit of Indian society has surrendered to the growing demand for the individual as the basic unit, thereby fragmenting and decimating society from a cohesive whole of related people to single, atom-like individual units.
This materialism is not merely a western import. It is an inevitable part of global reality. This finds expression in Dilwale Dulhaniya Le Jayenge. The film illustrates an idealistic blend in mainstream entertainment where the displaced NRI is constantly weighed down by nostalgia for his homeland. He seeks vicarious satisfaction in feeding the pigeons in Londonís Trafalgar Square since he can no longer feed the pigeons back in his Punjab village.
Bollywood craze in the US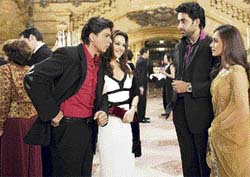 Karan Joharís KANK was shot in New York
* Twentyfive years ago, New York City had just one theatre in Manhattan dedicated to Bollywood films. It was called Bombay Cinema Manhattan.
* In the late 1990s, Gujarati businessmen Gautam Shah started his own multiplex chain in North Bergen, New Jersey.
* In 1999, Shah opened Subhash Ghaiís Taal at his Cineplex Plaza Theatres. The demand was so high that he was forced to screen Taal in all his 13 screens and Taal went on to earn nearly $600,000 in the opening weekend in North America.
* Eagles Movie Theatre in Queens, New York, shows Bollywood films.