Youngsters making obscene gestures, gross graffiti on signboards…
Is city turning into the region's vulgar capital?
Saurabh Malik does a recce of town
Chandigarh may have surfaced as the country's hottest emerging city in a survey carried out by real estate consultancy Knight Frank, but so many 'out-to-chill' kiddos out here are making it an 'embarrassing place to live in' because of their coldness towards basic decency.

Photo by Manoj Mahajan
Mum's the word
Nandita Puri comes to her maayka
Anandita Gupta
She's been giving the tele bahu-brigade some real competition. Not that she's fiery like the Kanjeevaram-clad Tulsi, forever shouting from her circular lounge. No Parvati-like sobbing for her either. But ah—Nandita Puri comes across as a relief from the sobbing, simpering moms in our daily dose of soaps.





Photo byParvesh Chauhan


A class apart
French chocolatier Jean Marc Bernelin helps us develop the 'correct taste'
Gayatri Rajwade
Chocolates in the city will now speak French. That may be stretching it, but not too far, we promise! With single-origin chocolates making their debut, it is rather like single malts, say aficionados. Err, not quite, says the Frenchman and chocolatier Jean Marc Bernelin in the city who insists it is rather like fine wine!



Photo by Manoj Mahajan


Yesterday once more
Would your ever forget those carefree and magical days on the campus?Swati Sharma walks you down memory lane
Unplanned mass bunks, gossip sessions over steaming cups of milky chai and sams, studying with friends just one night before the exams…it all seems just like yesterday. Students and seasons may come and go, but for Panjab University alumni, there's no place like the campus – age no bar.

Photo by Pardeep Tewari


They speak through colour


S. D. Sharma


Art is a personal feeling that an artist attempts to express through his work, which is otherwise difficult to be communicated. But here at the Kalasangam centre, Sector 2 in Panchkula, 30-odd artists between the age of four and 16, put up an excellent show on the concluding day of a 45-day camp.
Elwood, the ugliest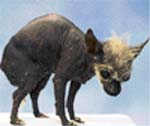 Elwood , a two-year-old Chinese Crested and Chihuahua mix, has been crowned the world's ugliest dog, a distinction that delighted the New Jersey mutt's owners. Dark coloured and hairless — save for a mohawk-like puff of white fur on his head — Elwood is often referred to as Yoda, or ET, for his resemblance to those famous science fiction characters. "I think he's the cutest thing that ever lived," said Elwood's owner, Karen Quigley, a resident of Sewell, New Jersey.
Hair Care

MENZ ONLY

ZIP PAST

FASHION

SPORTS
Shade it all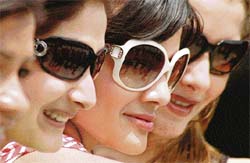 Buying a trendy, jazzy pair of sunglasses that offers little UV protection
may leave you blind
Parbina Rashid
Have you acquired the latest oversized and jazzy pair of shades that lends anonymity yet makes one stand out in the crowd? If not, it's sure to be on the top of your must haves list for this summer. But before you head towards those swanky shops that offer all these glittering shades, sported by our Bollywood divas for peanuts, here's a word of caution from the eye experts— buying fashionable sunglasses that offer little or no protection from the harmful UV rays— may leave you blind.
Little Interview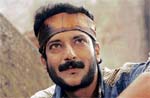 Hello Gunaji
Parbina Rashid
His latest Marathi book Gudharmya Maharashtra is doing roaring business. He is the bad guy in Subhash Ghai's Black and White, making news in N. Chandra's Breaking News, doing his social bits as the turtle saver in Hello Zindagi. What's more, his recent exhibition of photographs in Pune established him as a man equally comfortable behind the camera. Milind Gunaji is in the news again. So, when the deep baritone voice on the other end phone agrees for an interview for Life Style, we fumble for the right questions.
beauty studio


Safe in the rays
Pammy Kaul
Come summer and it is time to protect ourselves from the harmful rays of UVA and UVB. And it is indeed very confusing with all the SPF numbers and then the big question always remains what factor to apply on our skin and when? There are products ranging from factor eight to sixty. To break it up for you, UVA penetrates deep into the skin layer causing premature ageing and increasing the risk of skin cancer, while UVB rays burn the surface of the skin causing it to tan and burn.
Tune in to Cash
THE music of the action flick Cash premiered on Big FM in its breakfast show, Big Chai with RJ Muskaan, Thursday. The show interviewed the cast, crew and music directors of the film directed by Anubhav Sinha of Dus fame The film stars Ajay Devgan, Suniel Shetty, Ritesh Deshmukh, Zayed Khan, Dia Mirza, Esha Deol and Shamita Shetty.
Paanch ka ek, Dus ka do!
Weight-watchers, lactose intolerant, hygiene hooked! Rush to the nearest ice-cream pushcart for a chilled solution for just Rs 5
Purva Grover
AN ice ball sprinkled with bright sherbets in red, green and pinks waiting for you at the roadside is like a life saver when you are out on the road sweating and thirsty. Tempting, chilled and mouth-watering, the barf ka gola relieves you from the fury of the rising mercury.
Licking that lolly

* Buy or steal one first.
* Get to a safe place
* Open wrapper.
*Take a nice big bite.
* Make silly faces to show how much you relished it.
* Repeat process until the ice-cream is inside your stomach.
*Go raid another one!


And the most expensive ice cream...
The $1,000 (Rs 45,915) Grand Opulence Sundae sold by New York's Serendipity restaurant is the most expensive. Yes, it's here that Kate Beckinsale and John Cusack went on their first date in the romantic flick of the same name. Anyway, the dessert is made of five scoops of the richest Tahitian vanilla bean ice cream infused with Madagascar vanilla and covered in 23K edible gold leaf. It is drizzled with the world's most expensive chocolate, Amedei Porceleana, and covered with chunks of rare Chuao chocolate.

BON APPETIT
Kandla Nijhowne
Ice-cream avtars
May the good Lord bless the blokes who invented ice cream and air-conditioners, for they certainly help make our scorching summers more bearable. Sundaes, cones, ice-cream pies and ice-cream sandwiches have all evolved from the original "iced-cream". Various additions and facelifts have given it the creamy, rich and fluffy product we are familiar with today. You could shepherd the kids into the kitchen to try out these variations that are delectable as well as splendid to look at.
An orange a day...
EATING citrus fruits rich in Vitamin C such as papaya, oranges and blackcurrant may be good for diabetes, for a new research has found that the nutrient could help reduce some of the complications linked with the disease.
BIG PICTURE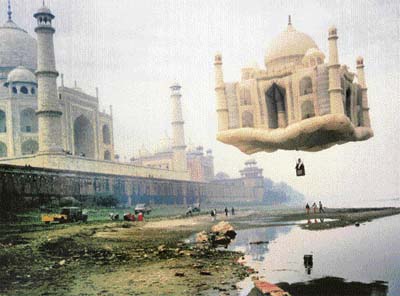 soaring high: A hot air balloon replica of the Taj Mahal near the monument in Agra. Balloonists from all over the world have pledged to vote for its inclusion in the list of Seven Wonders.