Salman Rushdie
Master and victim of his time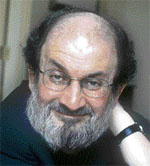 The hostile reaction of Muslims in many countries to the knighthood for Salman Rushdie, midnight's favourite child, has shown that the 60-year-old author will never be able to put the fear of fatwa behind him. He will always have to be wary about being misunderstood and demonised. He will never be free like other men, says Pratik Kanjilal
AT the Jaipur Literature Festival this January, Salman Rushdie had mourned the passing of the days when the book was out there while the author stayed safely home. "The title page of Robinson Crusoe has Robinson Crusoe in large type and 'Daniel Defoe' in very small print," he said.
Own 'multiple originals' of the masters
Phiroze Khareghat
SO you have got a new flat and would like to hang the painting of M. F. Hussain or Anjolie Ela Menon on the drawing room walls to impress your guests? With these maestro's works costing in crores of rupees, unless you are a Mittal or Mallya, the chances are not much for you to fulfil your desire.
'Tenth planet' outweighs Pluto
The new moon, Eris, discovered by astronomers in the outer solar system which resulted in Pluto being ignominiously demoted to 'dwarf planet' status, has finally been weighed.
GLENWOOD SPRINGS
Popular in all seasons
In addition to its famous hot water springs, Glenwood Springs in the US offers a horde of recreational activities like fishing, skiing, hiking, river rafting and mountain biking, say Rajbir Deswal & Chander Koumdi
Wrapped in mystery, Glenwood Springs in Colorado, US, appears as if it has for a long time been a favourite haunt of wanderers and holiday-makers. Today, the place is an economical and family-friendly stopover to the almost unaffordable Aspen, known worldwide for its skiing sites. Aspen is about 40 miles from here.
A delightful waterfall
D.B.N. Murthy
A half-day trip through forests, dangerous bridges and small tribal villages to the waterfall at Kuang Si is interesting. The waterfall is 29 km from the town of Luang Prabang, Laos. Water from a mountain stream splashes down limestone formations into a series of cool, turquoise-green pools.

Woody to direct first opera
Filmmaker Woody Allen is set to direct his first opera with Giacomo Puccini's comedy Gianni Schicchi. According to Placido Domingo, the Broad general director of the Los Angeles Opera, the director was approached for the project four years ago and it's only now that he has agreed to work on it.
The Anglo-Indian identity in cinema
Few Indian films have explored the identity of this minority, abandoned by the British and isolated in post-Independent India, through either character or theme, writes Shoma A. Chatterji
The Anglo-Indian, a minority ethnic group, is in the news. Bow Barracks Forever directed by Anjan Dutta, is about to be released. Pritish Nandy Communications' Bow Barracks Forever offers an insight into the real life story of a tiny but resolute Anglo Indian community right in the heart of bustling North Kolkata actually called Bow Barracks.
'Sholay redefined popular cinema'
Ram Gopal Varma's last film Nishabd did not exactly set the cash registers ringing but he is not looking back. He chats with Vickey Lalwani about two of the most ambitious projects of his career, Ramu Ke Sholay and Sarkar 2, and more.
FASHION
Look ravishing in your swimsuit
Your swim gear must make the most of your positive features and cleverly camouflage all those parts of the body you wish were not yours, writes Dipti Rai
With the heat wave sweeping North India, what could be better than stepping into a pool for an invigorating soak after a hard day's work? Those luckier still could even be planning an extended holiday at some beachside resort if only to burn out those extra calories and get the body back into shape.


Lifeline for mother and child
The Tamil Nadu Government has directed that all pregnant women be tested for gestational diabetes mellitus (GDM). The step to check blood sugar is expected to reduce infant mortality rate (IMR) in the state as GDM can harm both mother and child, writes Ambujam Anantharaman
To help expectant women to enjoy the arrival of their sweet little ones, the Tamil Nadu Government has directed that all women be tested for gestational diabetes mellitus (GDM).
First-born kids more brainy
Elder siblings really are more intelligent than the younger ones. An analysis of more than a quarter of a million teenagers found that the first-born children have a noticeably higher IQ on an average than their second-born siblings.