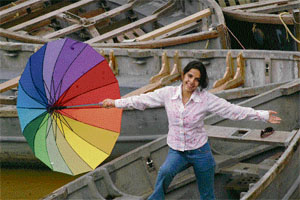 Itís almost like discovering a spring while walking on a parched desert. There you are, helplessly hating the horrid heat thatís left you all hissing. And then, Ďití arrivesÖ a freshet of sparkling, glistening water.

Anandita Gupta
Rains, in a country like India, have always meant unlimited joysóbattling freshets of sparkling rainwater sweeping across our faces, cupping our hands to collect some of these rushing torrents, jumping into dicey puddles and playing with the water zigzagging and trickling down our bodies mischievously.Swati Sharma
They are no longer required to wear the navy blue uniform. Fresh school pass outs are now busy preparing themselves to join colleges. And the major component of their preparation is shopping. The thought of moving around in those funky denims and trendy tops brings a smile to their face.

Write to Renee
Iím 32-year-old, going steady with a girl who works with me in the same firm. We go out a lot together but her silly habits are beginning to get to me. She is lost most of the time and her mind is elsewhere even through she is physically with me. Now she has developed a habit of text messaging her friends the moment we are together. I feel extremely uncomfortable. Should I speak to her about it or should I show my displeasure by getting annoyed.

Anandita Gupta
It may have taken a little while to actually happen. But finally, the winds humming a sweet melody, are holding a promise of the rain. No wonder, the monsoon gods have decided to smile down upon us.Swati Sharma
Seventh of July may be the most auspicious day to get married, but then, how good is it an idea to tie the knot in the middle of the Great Indian Monsoon? Wedding and monsoon is a lethal combo as water droplets on the D-day can smudge you mascara and wash away the blush.Parbina Rashid
Having spent my childhood and adolescence in Assam, where the monsoon meant locking oneself up inside the house, with three feet water all around (sometimes inside the house too), rain didnít mean much romance for me. However, after seeing the ardour with which Punjabis celebrate rain, my eyes opened to the seasonís romantic side.Saurabh Malik
Orkutís got a new rival. All these months it may have helped you mouse-click friendsí friends existing together in a virtual world, but the social networking platformís celluloid supremacy is now being challenged by ZillR.Com, a new site primarily for Indian users.

haywire
Of sultry sirens & seasons


Chetna Keer Banerjee
Itís not only sirens that get sultry. Seasons do, too. And when the situation gets real sticky, beauty goes bust. Before and after every cloudburst.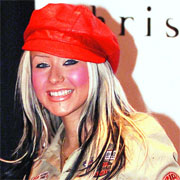 Aguilera to begin acting career
Singer Christina Aguilera is all set to take the Hollywood acting path. The Dirrty singer is reportedly reading scripts so as to find out the perfect debut role for herself. ďI am looking forward to moving into another form of what I feel is another creative outlet for me and that would be acting,Ē she was quoted as stating in a press conference in Shanghai. ďIt is something that, when I attempt to do it, I want to do it right so itís important for me that I do choose the right first role for myself,Ē she added.

Rajiv Kaplish
A false doping charge has forced an ace boxer to kiss the ring goodbye. His older son, though aware of his fatherís traumatic experience, canít pursue his boxing career to wash the stain on the latterís character. The younger son gives up singing to redeem his fatherís reputation and becomes a boxer. Will he become the king of the ring? Or, will the dream of his father remain unfulfilled?