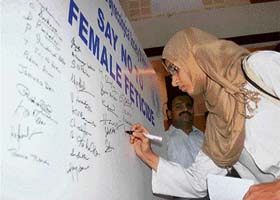 A lady doctor signs a campaign poster to support "Say no to Female Feticide" on the occasion of Doctors Day at Gandhi Hospital in Hyderabad on Sunday. — PTI
Post-Godhra Riots
Displaced victims get election ID-cards
Ahmedabad, July 1
Iqbalbhai Memon, a post-Godhra riot victim, got his photograph clicked this June after five years. What was different this time was that it was not just a mere photo opportunity but one meant to help exercise his fundamental right — vote — with Assembly elections in Gujarat slated later this year.
Maoist attack leaves nine dead
Patna, July 1
Eight persons, including six policemen and two civilians, were killed when nearly 250 armed Maoists attacked a police station and an outpost in Rohtas district of Bihar around last midnight. Eight others, including four policemen, were injured in the attack and taken to Varanasi in eastern UP for treatment.
Don't bring presidential poll to municipal level: Bardhan
Nagpur, July 1
Advising the political leadership to maintain the dignity of Presidential nominees, CPI leader A B Bardhan today said the election to the country's highest constitutional post should not be brought to the level of a municipality poll.
Prez poll: Scrutiny today
New Delhi, July 1
The race for India's highest constitutional post would enter its closing lap tomorrow when scrutiny of nominations for the July 19-presidential elections would be taken up. A total of 84 nominations were filed for the presidential polls with as many as 33 new nomination papers being received on the last day.
Moily Panel Report
Centre, states asked to pay attention to prison reforms
New Delhi, July 1
Expressing concern over the appalling condition and overcrowding of jails, especially in Delhi and Jharkhand, the Administrative Reforms Commission has recommended that the Centre and the state governments should work out modernisation and reforms of the prison system.
IAF to buy 126 jets from 1 vendor
New Delhi, July 1
Putting aside rumours of multi-vendor acquisition, the Indian Air Force says it will acquire its 126 multi-role combat aircraft from a single manufacturer. The Chief of the Air Staff, Air Chief Marshal F.H. Major, said in an interview to a defence magazine: "The world's single biggest fighter jet order will go to one supplier.
1971 War
US pleaded with China to 'menace' India
New Delhi, July 1
The recently declassified US official records throw new light on the anger and frustration that seized US President Richard Nixon during the 1971 Indo-Pak war and how Washington secretly pleaded with China to "menace" India by moving troops to the Indian border.


Son identifies FCI official's body
Guwahati, July 1
Pravin Ram, son of abducted Food Corporation of India executive director, Dr P.C. Ram today identified the body of his father at the morgue of Nalbari district civil hospital in Assam. Dr Ram's body bore a cut at the throat and there were marks of sharp weapons on the back.

FCI officials pay tributes to the mortal remains of FCI executive director P.C. Ram in Guwahati on Sunday. Ram was found dead at Boroma, Nalbari, on Saturday evening after he was kidnapped by alleged ULFA militants in April for a ransom money of more than Rs 20 crore. — PTI photo


Sahib Singh Verma cremated
New Delhi, July 1
Former Delhi chief minister Sahib Singh Verma, who died in a road accident yesterday, was cremated today with full state honours here.

Punjab Chief Minister Parkash Singh Badal pay floral tribute to BJP Leader Sahib Singh Verma at the party head office in New Delhi on Sunday. Verma died in a road accident in alwar district in Rajasthan. — Tribune Photo by Manas Ranjan Bhui
Diana Hayden helps build homes for poor
New Delhi, July 1
Indian beauty queen and former Miss World Diana Hayden has joined hands with some of Hollywood's most influential women to build homes for the needy and poor in Los Angeles.
This time, it is the Telugu-speaking people
NRIs to host another fundraiser for Hillary
Hyderabad, July 1
Signalling direct participation in the political process of their adopted country, non-resident Telugu-speaking people in the United States will host a breakfast meeting with the Democrat presidential candidate Hillary Rodham Clinton on July 5.
Israel's tech helps cos meet fresh water needs
Mumbai, July 1
Faced with fresh water crisis, some of the major industries located on sea coast are using Israel's water desalination technology in their plants to meet their requirements.
Space technology beckons IIT students
New Delhi, July 1
Students who may not make it to the Indian Institutes of Technology despite clearing entrance exam can now look forward to careers in space technology. Such students can now directly apply to various courses in the new Indian Institute of Space Science and Technology which is launched in Thiruvananthapuram this academic year.


The countdown begins
New 7 wonders of world
New Delhi, July 1
Just seven days before the world gets to know the names of the new seven wonders, suspense is growing over Taj Mahal making the final cut as India remains in the fourth spot in voting percentage despite a sustained campaign to garner support for the marble monument.
Mysore emerges from shadows of Bangalore
Mysore, July 1
Emerging from the shadow of its cosmopolitan neighbour Bangalore, Mysore was witnessing a flurry of activities in many fronts and was all set to evolve as a brand and alternative destination in Karnataka.
Woman gives birth in water
New Delhi, July 1
A 29-year-old woman delivered a healthy baby girl in water in the birthing pool of a South Delhi hospital here on Monday evening. Prachi Agarwal, a Delhi based invitations designer was inspired by reports about successful water birth deliveries opted by a British and an Italian woman at Phoenix Hospital where she was undergoing pre-natal check up under the guidance of consultant obstetrician Dr Urvashi Sehgal.
Fake encounter case: ATS cop surrenders
Ahmedabad, July 1
A police inspector, wanted by the Gujarat CID in connection with the killing of Sohrabuddin Sheikh in a fake encounter, today surrendered to the agency. Balkrishna Chaube, an inspector with the Gujarat Anti-Terrorist Squad, was arrested after he surrendered in Gandhinagar, officials said.
CM, others fail to file assets list
Bangalore, July 1
Karnataka Lok Ayukta N Santosh Hedge's pro-active move recommending the sacking of two cabinet ministers who failed to file the annual statement of their assets and liabilities to the Governor last year has apparently not had the desired effect.
Brother-in-law of Lalu holds up Rajdhani
Patna, July 1
The Delhi-bound Rajdhani express from Patna, reportedly, left 15 minutes behind its scheduled departure time yesterday allegedly because of the uproarious protest by Railways minister Lalu Prasad's brother-in-law and MP Subhas Yadav against the non-confirmation of his tickets in the first class AC coach of the train.
India to host World Toilet Summit
New Delhi, July 1
New Delhi will host the World Toilet Summit 2007, a four-day international event on sanitation in October 2007. The summit with the theme 'Toilet for all' will start on October 31. It is expected to attract experts from across the globe.
Urban share of population to soar: UN report
New Delhi, June 30
Six months from now, the world will reach an invisible but momentous milestone. For the first time in history, more than half of the human population of the world, 3.3 billion people, will be living in urban areas, according to projections made by the UNFPA report on the State of World Population 2007.
Mar Ivanios to be declared 'Servant of God'
Thiruvananthapuram, July 1
Late Geevarghese Mar Ivanios, the first Metropolitan of Syro Malankara Church, is to be declared as 'Servant of God', marking the first step in the process of conferring sainthood by the Vatican.
Monkeys take up rooms in varsity hostel
Patna, July 1
Creating all sorts of nuisance, some 16 monkeys have made the life of the inmates of the Patna university girls hostel "unbearable" as all attempts by the authorities to drive them away failed.
Plane skids off runway, 5 hurt
Indore, July 1
Jet Airways Delhi-Indore flight with 49 passengers and crew on board here today had a narrow escape as the flight skidded-off the runway while landing during rains at the Indore's Devi Ahilyabai Holkar airport with five passenger suffering minor injuries.



Videos
Railway Restaurants.
(56k)
Safety with technology.
(56k)
A Waterfall that cures!
(56k)
Randeep Hooda plays 'Love Game'.
(56k)