N.S.S. camp concludes
Our Correspondent
Doraha, July 2
Various competitions, including poster-making, drawing, painting, mehandi application and jewellery making were especially organised in order to lend colour and variety to the 10-day NSS camp for girls being carried on in the girls wing of Guru Nanak National College, Doraha.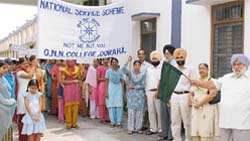 NSS volunteers at a rally in Doraha. — A Tribune photograph
A majority of the NSS volunteers showed great enthusiasm in these quality and talent- promoting competitions by ensuring their active participation in them.
During the course of these competitions, Prabhleen, an expert designer, explained about various nuances of fine arts and other decorative arts and the need for adopting them as future professional courses. The practical knowledge accorded to these volunteers along with the theoretical information, proved an asset for all the students. The students also got yoga training under the guidance of Savita Bector. A special yoga class was arranged for according practical training to these volunteers and making them aware of various physical, social and psychological benefits one can have by becoming a regular yoga practitioner. Bector also educated the volunteers about the uses of taking a balanced diet and also the means by which one can protect oneself from various types of diseases by adopting a healthy and pure lifestyle.
A rally, focusing on the eradication of various social evils in society, was also taken out by the NSS volunteers. This rally was supported by the Youth Forum, Doraha, accompanied by its chairman Jandeep Kaushal and other members, including Hardeep Singh Boparai and Joginder Singh. The chairman of Youth Forum, Doraha appreciated the steps being taken by these volunteers towards a radical social change in acutely deformed social set up.
Prof Balwant Singh Pangli, general secretary, College Management Committee, Jaswant Singh Gill, director, Dr Narinder Singh Sidhu, Principal and Adarsh Pal Bector, treasurer, College Management Committee, also addressed the volunteers and exorted them to put in their efforts in establishing a clean and corruption- free society.
A nukkar-natak (streetPlay) entitled 'Anpar Kuri', focusing on the relevance and significance of education for village girls, was also staged by the volunteers. The play also focused on various social evils as dowry, female foeticide etc.
An exhibition on various aspects of rural Punjabi folk culture, was organised on the campus itself. A cultural programme was presented on the concluding day of the camp.
The results of various competitions organised during the course of this camp are as follows: In poster-making competition, Jatinder Kaur of B.A.II and Amandeep Kaur of M.Com secured the first place while Amandeep Kaur was placed in the second position and the third place was won by Sarabjeet Kaur of M.A.I and Amandeep Kaur of B.A.II.
Similarly, in mehandi competitions, Jagpreet Kaur of B.A.III and Jatinder Kaur of B.A.II got the first and second positions, respectively, while Sandeep Kaur of B.A.II and Kamaljit Kaur of B.A.I, were jointly placed in the third position.