M A I N N E W S
Bapu's letter not to be auctioned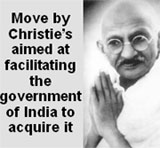 London, July 2
The priceless manuscript of an article written by Mahatma Gandhi written just a fortnight before his assassination will not not be auctioned here tomorrow so that the Indian government can acquire it.
"The Christie's have agreed to withdraw the Mahatma Gandhi's manuscript from tomorrow's auction to facilitate the government of India to acquire it," Dr Amin Jaffar, International Director of the noted auction house Christie's, said today.
"We decided to have facilitating negotiations, which have resulted in an important historical record returning to India," Jaffar said in a release signed by Mathew Paton of the Christie's press office.
The Christie's had earlier fixed a reserve price of 9,000 to 12,000 pounds for Gandhi's manuscript written on January 11, 19 days before his assassination.
The article related to "Urdu Harijan", which was written for his journal "Harijan" with a number of emendations and cancellations ran into seven pages.
Earlier, Indian High sources said they were in negotiations with the Christie's on the modalities of acquiring the manuscript on behalf of the Indian government.
Reports last week that the manuscript was going to be auctioned tomorrow had triggered instant reaction in Indian with several Gandhians urging the government to immediately intervene and initiate steps to acquire the letter.
One of the options reportedly considered by the government was to bid for the document in the auction. — PTI