M A I N N E W S
Still no connect
Tribune News Service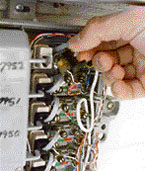 Chandigarh, July 2
Efforts to revive telecom services continued for the third day today as BSNL tasked more than 300 employees to restore connections that went out of order after a fire at its exchange in Sector 17 here on Saturday. While mobile phone services were restored to some extent, officials said it would take a few days before they could establish broadband connectivity.
Naresh Sharma, BSNL general manager (Chandigarh Area), informed that the mobile phone services in areas outside Punjab and Chandigarh had been restored. "Service in the city are still a little disrupted. Hopefully, they will be taken care of tonight," he added.
Landline services to sectors 1 to 26 of the city were, however, not restored till late evening. These sectors house many important offices and residences, including the Reserve Bank of India, insurance companies, Punjab, Haryana and Chandigarh government secretariats, central government offices complex, the PGI, Panjab University and Raj Bhavans of Punjab and Haryana.
The officials said it would take a while for the phones to start ringing as cables had suffered extensive damage. Many café owners suffered losses as the national and international long distance calls and Internet remained disrupted due to BSNL failing to make alternate arrangements for restoring these services.
Meanwhile, various banks in the city started functioning today. However, the computer network of the State Bank of Patiala was still not operating. Officials at the bank had to do transactions manually.