PUNJAB

HARYANA

JAMMU & KASHMIR

HIMACHAL

REGIONAL BRIEFS

NATION

OPINIONS

MAILBAG

BUSINESS

SPORTS

WORLD


M A I N N E W S

A Tribune Investigation


From Behind The Bars — II
No floor underneath, no roof overhead
Aditi Tandon
Tribune News Service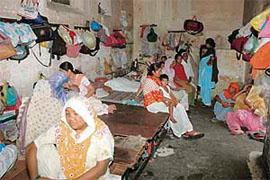 Pigeonhole existence

: Women prisoners stacked away, some with their children, in a dilapidated room in Jalandhar Central Jail. The structure that stands in the extreme right hand corner of the room is the toilet the inmates use. — Tribune photo by Pawan Sharma
Chandigarh, July 2
The horrors of undignified living come alive in each of the 86 faces one encounters in the women's cell of Jalandhar Central Jail. Piled up like refuse in two small, dingy rooms, these prisoners scramble for space. But there's none.
"The mice are better off than us," says Dhyan Kaur, 60, pointing towards four door-less structures. These are the toilets and baths inmates share, 40 awaiting their turn at a time. In all the jails where women live, the situation is bad. There's no privacy; no one demands it either.
So long as they are inside, they must make do with what they have - two cells in the name of living space, 50 hard beds to share and open baths. The floor under their feet is rutted; the ceiling is giving way; the walls are dangerously perched and devoid of plaster.
This is the women's barrack at Punjab's oldest central jail, which has stood for 150 years. Now unsafe, it was originally meant for 25 women. Today there are 86, 71 of them undertrials. Together, the women undertrials at the central jails in Jalandhar, Patiala, Ferozepur, Gurdaspur (each is 100 years old), Bathinda, Amritsar and district jails at Sangrur and Hoshiarpur account for maximum overcrowding. Of the 800 prisoners, only 231 are convicts; the rest are facing trial, some in heartrending cases, like Surinder Kaur, 45, lodged at Jalandhar.
She has been here since the past 11 months for attempting to kill her minor daughter. Strangely, her daughter comes to see her in jail during visits (mulakats), allowed from 9 a.m. to 12 noon and 3 p.m. to 5 p.m., daily. She also brings her raw vegetables, allowed to all inmates, though few can afford the luxury. More often, they sustain with the diet prescribed by the jail manual, written in 1896 and partially revised by the Punjab government in 1996 — after 100 years!
The manual requires lunch to be served at 8 a.m., and dinner at 6 p.m., each comprising six huge unbaked chapattis and dal. "Only 3 gm dry tea leaves are allowed to each inmate, a day. The quantity earlier was 2.5 gm. The diet needs to be balanced to prevent gross deficiencies, which go unreported in the absence of in-house lady doctors. Not a single jail has a permanent lady doctor. Inmates have high uric acid levels, caused by huge pulse intake," observes Jyoti Seth, who studied Punjab jails for the National Commission for Women.
Back in their cells, women wear pale looks, deprived even of a glass of milk, reserved only for lactating and pregnant mothers. All they can have between the two main meals is a few grams of "chhole" and tea. Superintendents agree the provisions need urgent revision. This is further compounded by lack of proper sanitary facilities. Shockingly, there's no provision of sanitary napkins and underclothes for women.
All they get is a soap per month and two pairs of clothing if they are convicts. Undertrials wear their own clothes. They need not engage in work programmes either, says Dilraj Singh, superintendent at Jalandhar jail. And why should they? The jail manual prescribes dismal wages - Rs 8, 10 and 12, respectively, for normal, skilled, and highly-skilled workers.
Work programmes, naturally, are a rarity expect at the Ludhiana all-women's jail, Amritsar's high-security jail and Bathinda. Elsewhere, women lead lonely lives, counting days to the next court hearing. Darsho, 50, an undertrial since two years in a narcotics case, shows her diary in which she keeps account of dates. "There's nothing else to do. There's no regular teacher, no good programme, no motivation. Above all, there's no sunshine." The verandahs in women's enclosures are so small; inmates can't have enough of sunshine. They fight for their share nevertheless.
But some can't even do that. At the Patiala jail, the only jail with provisions to segregate women on death row, Sonia Walia, sentenced to death for the murder of Abhi Verma, is in solitary confinement. Unlike those on life sentences, who can move around enclosures expect during "bandi" (lock up), Sonia leaves her cell only twice a day - for half-an-hour each.
In the central and district jails, women prisoners are not allowed to leave the enclosures even to visit on-campus gurdwaras. Within the enclosure, too, they are locked from 12 noon to 3 p.m. and 6 p.m. onwards. These are times for lock-up (bandi), says Roop Kumar, superintendent, Amritsar jail, where women are slightly better off due to the involvement of Kiran Bedi's India Vision Foundation.
At most other places, they remain marooned in thoughts, unable to engage in unconstructive programmes or uninventive adult literacy sessions. Expect in Ludhiana and Amritsar, there's no permanent teacher anywhere. Also, Ludhiana is the only jail where inmates can cook their own food. Elsewhere, they must eat what the men give them. They can't enter the kitchen located close to men's barracks.
And they better not. In a 100-year-old manually run kitchen, it takes 35 men 10 hours to prepare one meal. For the morning meal, they are awake all night. In Punjab jails, gases replaced firewood only one year ago. No wonder the authorities are lenient to men who cook, for no one wants to.