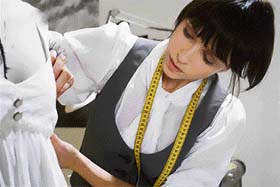 Think small for big rewards
Usha Albuquerque
Sunita is a graphic designer who had a good job with a television channel. But when her marriage broke up, and she had to take care of her two-year old daughter, Sunita decided to work from home. Now, with a number of computers at home and a staff of five people, Sunita has set up her own design studio, handling a variety of different design assignments and earning more than ever before. While necessity was the driving force behind Sunita, there are others like Vandana who are able to seize a good opportunity and turn it into a fortune.

Careercature
Sandeep Joshi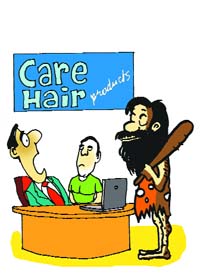 Couldn't you find a better model for our hair products?

Don't use tears as a weapon at workplace
Patricia Kitchen
Hannah Seligson says she's not prone to crying. But one day, just four months into her first job, she was called into the big boss's office and told that her immediate supervisor was not happy with her work. Seligson, now 24, lost it. She was running on four hours of sleep and immersed in creating an elaborate PowerPoint presentation.

Outgrow limited confines of your job
I.M. Soni
Successful people are made — seldom born. They are not any brighter than laggards. Many did not attend good colleges. Nor did they work any harder. They succeeded because, among other things, they worked smarter, and they know how to tap their inner resources. The laggards are not even aware that these resources exist!

Arena launches animation engineering
Arena Animation, global leader in hi-end animation training, has launched the brand new version of its comprehensive animation engineering programme — DAE 2007. The programme is available only at select arena animation centres across the country. Admission to the course is on the basis of a common entrance test.

Career Hotline
Stick to your field of interest
Pervin Malhotra
Q I have joined an Indian hotel group as a trainee after completing my bachelor's in hotel management. I like the hospitality sector but my colleagues feel that there is no point in hanging on to hospitality, as other industries, particularly BPOs, offer much better pay packages?
— Naresh Batra