Think small for big rewards
Usha Albuquerque
Sunita is a graphic designer who had a good job with a television channel. But when her marriage broke up, and she had to take care of her two-year old daughter, Sunita decided to work from home. Now, with a number of computers at home and a staff of five people, Sunita has set up her own design studio, handling a variety of different design assignments and earning more than ever before. While necessity was the driving force behind Sunita, there are others like Vandana who are able to seize a good opportunity and turn it into a fortune.
Vandana was working with a catering company when the order for a large wedding banquet came in. Vandana not only handled the catering for over 200 guests, but also got involved in the theme parties, the decoration, and the gifts for the event. Today she runs a very successful wedding planning business.
Today, the scope for small entrepreneurs has grown enormously. Surveys estimate that this is the fastest growth area, and one which has created new jobs for millions. Whether it is making pickles or jams, starting a real estate agency, or providing IT services, entrepreneurship has become the call of the day. But possibly the most dramatic change has been that of the home entrepreneur. The high-entry requirements in the formal sector may have driven many young people to strike out on their own. But often it is the big bucks in the long run and the freedom to choose their own rainbows, that are the major guiding factors. Many qualified MBAs are looking to set up their own consultancy services in a range of management areas, rather than take up the many high salaried jobs they are offered. Moreover, women with small families, people who re-locate, early retirees, and those who need to be at home to handle other personal responsibilities are finding that it is no longer necessary to have a 9-5 job sitting in an office. So whether it is providing free-lance articles for magazines and journals, beauty care services, catering services, conference and exhibition services, selling books, providing interior design or education services or even a variety of quick home services, more and more people are trying their hand at either a full-time or part-time small business ventures.
And there are plenty of options to choose from. These options do not necessarily require huge funds, loans or project reports to get you going. Some money, more skills and lots of gumption can help you start your own small venture. With the concept of employment having undergone a huge change, there has been a steady rise in the creation of new jobs, in areas that had previously not been explored.
Such enterprises can be broadly divided into three overlapping types of activity:
Manufacturing

Providing a service

Selling or marketing
Most enterprises combine at least two activities, one of which is the more crucial.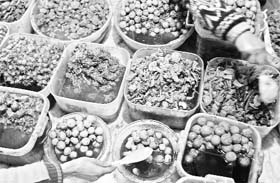 Manufacturing overlaps with selling and covers anything from making children's clothes to high-tech components for the computer industry. It requires using some skills, some finance and probably premises. So if you cannot venture out on a full-time job, you can use your talents to create products from home for a variety of purposes. These can include gift items, ranging from your own paintings, to scented candles or even gift cards and stationary. If you have an aptitude for designing and tailoring clothes, you can turn your spare room into an exclusive boutique for clothes, household linen, lamp-shades and so on. If you have an aptitude or training in culinary skills, you can set up a catering service for a variety of food items from pickles and sauces to specialised items like chocolates and cakes, and even complete meals and speciality food items. You can even make your hobby into a business. It will give you a lot of fun and at the same time, a lot of money too. Anita Baijal (49) has done exactly that. She has left her job with an airline to become a chocolate manufacturer. She started her entrepreneurial venture only three years ago. Anita started off basically by distributing chocolates to her friends and acquaintances. Soon, through references by word of mouth, small orders started coming her way. Today she gets a lot of orders for fresh chocolates and often, even for cakes.
Selling or marketing usually overlaps with both manufacturing and providing a service. It could include making pickles or cakes at home and delivering them to regular clients, running a second-hand library or magazine service, running a home repair, or laundry service, or setting up an exhibition or sale of clothes or handicrafts. It could also be selling products or services, as agents, or on a commission basis, whether they be hotel rooms, airline tickets, or mobile connections, and investment services. Selling involves more initial organisation and business know-how, capital and risk than a service venture. You can also market items made by others, or outsourced.
Providing a service requires the least capital and involves less risk. These services are based on using one's time, basic skills and possibly any specialised training received. The information age of computers and telecommunications makes it possible to market a variety of services that only require a computer, modem and telephone. These include marketing services such as telemarketing, telecommunications, data processing and even call centre and BPO work. Other services that can be outsourced from homes are in areas such as advertising and design, interior design, publishing, internet services, teaching, as also a range of corporate services. Those with language skills can sit at home and edit manuscripts, or proof-read for grammatical and typographical errors for book and magazine publishers. Free-lance writing for newspapers, magazines, or web-sites, as also tracking news reports, developing content and conducting research through the net, and providing a clippings service also offer big opportunities.
Those who can draw and paint with creative and artistic skills can take up graphic design and illustrations for books. Advertising companies require a range of graphic design services that can as easily be done from the home as from the office. Art and craft skills can also provide openings in areas of interior design for offices and homes, fashion, jewellery and accessory design for designers or boutiques, and handling of art works or holding art exhibitions, and other related service. With the growing demand for a range of beauty, health and cosmetic treatments, this, too, provides ample opportunities for trained professionals to strike out on their own by setting up of a beauty parlour at home or offering personalised services to customers in their own homes. An increasing demand for new faces and acting talent for television, films and modeling can provide opportunities for setting up of a model or television coordinating agency. Organising talent, keeping their portfolios and hiring out services to television companies and advertising agencies can be a lucrative business.
Another service much in demand is that of teaching. Today school and college teachers find it far more lucrative sitting at home giving tuitions on school subjects, than teaching at schools or colleges. Many teachers have started out coaching two to three batches of 20-30 students, and before long hiring other teachers and increasing their intake of students.
Moreover those with specialised knowledge or training in fields such as music, dance, painting, yoga, aerobics or even cooking can hold classes for others wanting to pick up and develop these skills. In the same way those with organisational and inter-personal skills can handle events, seminars, workshops and other social and business activities as well as handle liason and representational work for different organisations.
Running a security agency is another activity that can be conducted from home. Several retired police and service personnel are finding that their past experience comes in handy for starting such a venture.
Poonam loves animals, especially dogs. She has four at home, along with a tortoise, parrot and a hamster. Poonam has now started a small grooming parlour for pets. Here she provides a range of services such as trimming of hair and claws, bathing and other grooming services. On popular demand, she is also planning to now provide kennel services, where she will keep pets, when the owners go out of town.
So starting a small entrepreneurial venture is not a very tough job, especially if you have the talent and the drive to make your business succeed. All you need is some money and a few contacts to start off initially. Other personal attributes that can help you succeed would be perseverance, self-confidence, interpersonal skills, some business acumen, imagination. Moreover, you have to have a hold on the pulse of the market, otherwise both clients and your employees, once you have them, will exploit your ignorance. The extent of these qualities, of course, depends on the nature of the enterprise contemplated. And for skilled jobs, having an inborn talent is essential. An ideal entrepreneur is one who looks for opportunity in every problem.
Today there are a number of entrepreneurial development courses and agencies that provide training to those who wish to become entrepreneurs. Prominent among these are:
The Small Industries Development Bank of India (SIDBI), New Delhi.
Women Achievers' Guild, Bangalore.
The Federation of Indian Chambers of commerce and Industry (FICCI), New Delhi.
Entrepreneurship Deveopment Institute, Ahmedabad, offers PG diploma courses in entrepreneurship and a one-year course through open learning.
Several management institutes such as Narsee Monjee, Mumbai and Symbiosis, Pune, also offer entrpreneurship as a specialisation for the MBA or PG diploma programme.
So whatever may be the service, there are always opportunities for setting up a small venture at home.