PUNJAB

HARYANA

JAMMU & KASHMIR

HIMACHAL

REGIONAL BRIEFS

NATION

OPINIONS

MAILBAG

BUSINESS

SPORTS

WORLD
ADVERTISEMENT
ADVERTISEMENT
Thursday, July 5, 2007, Chandigarh, India
Updated at 3:00 am (IST)

Lal Masjid Stand-off
Day 2
1,200 surrender, desert
Top cleric Maulana Abdul Aziz arrested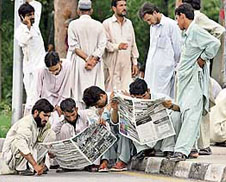 Islamabad, July 4
The chief cleric of the Lal Masjid besieged by army troops was caught today trying to escape wearing a burqa as over 1,200 radical students and militants holed up in the mosque complex surrendered to the government.

Relatives of Pakistani students of Lal Masjid browse through newspapers as they sit on a street in Islamabad on Wednesday, reading details of the previous day's events at the mosque. — AFP photo


In video (56k)


Pak minister of religious affairs resigns


Lal Masjid a state within a state: Nilofar

CAST YOUR VOTE
Are fears regarding radiation leakage from USS Nimitz justified?



India: The Tasks Ahead
SPECIAL SUPPLEMENT
125TH ANNIVERSARY CELEBRATIONS,
INAUGURAL SESSION





CHANDIGARH

LUDHIANA

JALANDHAR

DELHI

HIMACHAL PLUS

HARYANA PLUS
New

AMRITSAR PLUS

LIFESTYLE

BRIDES WANTED

GROOMS WANTED

OTHERS

HOW TO PLACE ADVTS
Australia frees one doctor; Haneef's custody extended without charge
Doc detained in UK is also an Indian
London/Melbourne, July 4
The third Indian doctor, detained in the failed terrorist plots in London and Scotland, was identified as a man from Bangalore and related to Dr Muhammed Haneef, whose detention in police custody had been extended for two more days in Australia.

World page: Brown cracks down on foreign medics
Quota for backward Muslims
AP to issue fresh ordinance
Hyderabad, July 4
The Congress government in Andhra Pradesh will soon issue a fresh ordinance to provide four per cent reservation for socially and economically backward Muslims in jobs and educational institutions.
Disproportionate assets case against Badals
Prosecution files amended chargesheet
Ropar, July 4
In the much famous vigilance corruption case of disproportionate assets to known sources of income against Chief Minister Parkash Singh Badal and members of his family, pending in the court of special judge G.S. Sran here, the prosecution filed amended chargesheet today. (Details on Punjab page)

| | |
| --- | --- |
| | |
| | HARYANA: KU introduces reservation for BPL candidates |
| | HIMACHAL: CM visits Sacha Sauda dera |
| | |
| | CHANDIGARH: 5 days gone, BSNL Nets services — partly |
| | LUDHIANA: Drainage system gets choked |
| | |
| | OPINIONS: Soldiers in stress |
| | |
| | |
| | |
| | |
HOROSCOPE

E - Revolution 2005:
A Two-day IT conclave

Assembly Elections - 2005

Turbans

Chandigarh is 50

EARLIER FEATURES
Maintain dignity of office: Pratibha
New Delhi, July 4
Breaking her silence, UPA-Left presidential nominee Pratibha Patil today put out a signed statement dismissing as "motivated" allegations against her and said the campaign for the July 19 poll should not demean the dignity of the highest office.
Not Gandhi's last letter, says granddaughter
Shimla, July 4
Although auctioneers Christie's have stalled the sale of the letter, being termed as the last one written by Mahatma Gandhi, his granddaughter today said it was only a document and certainly not the last one written by him before his assassination.

2 Indian docs held in UK, Australia
July 4, 2007
Debug all judges, court: Bench
July 3, 2007
Day II: BSNL fails to connect
July 2, 2007
Chandigarh down
July 1, 2007
Interim bail for dera chief
June 30, 2007
Telgi gets 13-yr RI, Rs 100-cr fine
June 29, 2007
Congress exerting 'undue pressure' on voters: NDA
June 28, 2007
Sena, BJP in a scrap
June 27, 2007
Shiv Sena to back Pratibha
June 26, 2007
Rains claim 19 lives in Maharashtra
June 25, 2007