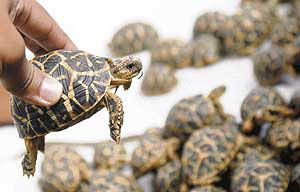 A zoo official holds a star-patterned tortoise at the zoological park in Hyderabad on Wednesday. About 375 Indian star tortoises were returned to India after they were smuggled from the country and seized in Malaysia last week. — Reuters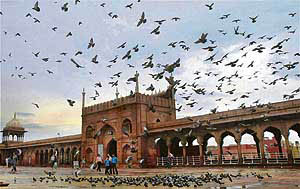 Pigeons fly in the compound of the historical Jama Masjid as clouds gather for another round of rain in New Delhi on Wednesday. — PTI

SCs to get free drinking water in Haryana
Punjab seeks hike in per unit assistance under TSC
New Delhi, July 4
Haryana public health minister Randeep Singh Surjewala today said the state government would spend Rs 340 crore under the ambitious Indira Gandhi Drinking Water Supply Scheme in next three years to provide free drinking water connection to scheduled caste households in the state.

Melting of Shivlingam
President urged to look into row
New Delhi, July 4
The Shri Amarnath Yatra Welfare Organisation has written to the President, asking him to look into the latest controversy regarding the melting of the holy Shivlingam before time.

Plan to decentralise water management
New Delhi, July 4
Calling upon state governments to empower institutional structures in districts to handle water supply, Prime Minister Manmohan Singh today emphasised the need to effectively moblise scientific expertise for location of sources and collective action for water recharge.

Ethanol Fuel
Raise quota, UP tells Centre
Lucknow, June 4
The state government has asked the Centre to increase its quota to manufacture ethanol fuel. This is expected to bring relief to farmers reeling under the impact of falling sugar prices due to a bumper sugarcane crop.

Patil to visit Chandigarh
New Delhi, July 4
The UPA-Left presidential candidate Pratibha Patil will be visiting Chandigarh on July 7 to seek support from the MLAs and MPs of Punjab and Haryana.

Rain brings Kolkata to a standstill
Kolkata, July 4
The monsoon continued to lash the city and the surrounding districts for the second day today forcing people to remain confined to their homes.

Maharashtra told to compensate victim's kin
New Delhi, July 4
The National Human Rights Commission (NHRC) has asked the Maharashtra government to pay Rs 2 lakh to the next of kin of a person who died due to custodial torture in the state.

'Teen doctor' surrenders
Tiruchirappalli, July 4
The teenaged boy who allegedly performed a Caesarean section at a hospital run by his doctor parents in Manapparai surrendered to a juvenile court here today.

10 m visit state last year
Bihar turns hot spot for tourists
Patna, July 4
The fact that more than ten million tourists, including 94,446 foreigners, visited Bihar last year, might encourage the Bihar Government to promote tourism in the state in a big way.

IMA bike expedition ends
Dehra Dun, July 4
As a part of adventure activities planned during the platinum jubilee year of the Indian Military Academy (IMA), a more than three-week-long motor cycle expedition touching Khardung la Pass culminated at Nizam Pavilion of the academy here today.

Kerosene scam
Pandemonium in UP House
Lucknow, July 4
Uttar Pradesh Assembly witnessed pandemonium following protest by the Samajwadi Party members on their demand for a discussion on the kerosene scam in the state.

Indian black pearl developer keen to trade tech
New Delhi, July 4
A self-taught Indian scientist who has produced the world's largest black pearl is looking to commercialise his pearl culture technique that has the potential to change the profile of the country's gem and jewellery exports.

Seven schools set afire in Manipur
Imphal, July 4
Seven government higher secondary schools in three hill districts of Manipur were set on fire today, prompting the authorities to beef up security measures in the state.

Subbarao takes charge as finance secy
New Delhi, July 4
Dr D. Subbarao today assumed charge as union finance secretary. He was holding the post of secretary, economic affairs, in the same ministry from May 1, 2007.

Ghai ready to pay Rs 1 crore for film script
Mumbai, July 4
In the first ever initiative of its kind, Bollywood producer-director Subhash Ghai has announced to pay Rs 1 crore to any screenwriter who brings forth a complete, bound script which could be acquired by Mukta Arts selection committee on its first hearing.

Jaya, 16 others told to pay charges
Bhopal, July 4
Samajwadi Party MP Jaya Bachchan and 16 other owners have been asked by the Bhopal Municipal Corporation (BMC) to deposit money spent on demolition of illegal structures allegedly constructed by them, official sources said today.

Security sweep at Big B's house
Mumbai, July 4
The residence of actor Amitabh Bachchan here was searched today by officials and sniffer dogs of bomb disposal squad of the Mumbai police following information that some subversive act could be carried out there, police said.

Telgi to tell all in autobiography
Pune, July 4
Abdul Karim Telgi, the kingpin of the multi-crore fake stamp paper scam, plans to expose his associates and beneficiaries of the scandal who went scot free in an autobiography that he intends to publish soon.




Videos
Emraans' sick of kissing.
(56k)
A Mosque inside the well.
(56k)
Graveyard for the faithful dogs.
(56k)