Accident cuts short promising career
Shahira Naim
Tribune News Service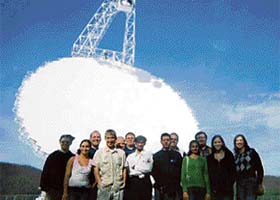 Abhishek Singh (7th from right) at Ohio University campus.
Lucknow, June 5
An accident cut short the promising life of a 24-year-old Indian student Abhishek Singh, originally from Faizabad, when a sport utility vehicle (SUV) hit him hurling him into a river in the US state of Ohio.
According to family sources, Ohio University authorities have contacted them to enquire about the nearest airport, which in this case is Amausi in Lucknow, where the body could be sent.
According to sources in US police, Abhishek, a student of Ohio University, was walking on the bridge over Hocking river late on the night of June 30 when the SUV jumped a red traffic light, collided with another vehicle and spun into the sidewalk.
The vehicle hit Abhishek throwing him above the guard rail into the river. His body was fished out by authorities some 16 hours later.
Initially, the police was not aware that the vehicle had struck someone until the body was found floating a few kilometres east of the bridge the next day. Forensic evidence like tail light glass on the clothing of Abhishek led the police to believe that he must have been hit by the SUV.
Abhishek, who was doing his doctorate in physics, was nicknamed "future scientist" by his classmates at JB Academy, Faizabad, recalled principal Ashok Tewari.
Abhishek did his Class XII at the academy before leaving for Jamshedpur to pursue an engineering course.
"I taught him economics in Class IX and X. At that time, the boy had written a book on the subject. It was really amazing," recalls Tewari.
His father A.K. Singh, who is presently working in Bangladesh, is on his way to India to receive the body. The mother is yet to be informed about the tragedy.