fashion
Cool and classy
Skirts teamed with light-coloured brocade shirts are an example of 'soul dressing'.
Dolly Sagar on what rules the market today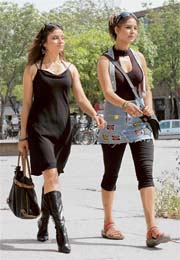 What is fashion is a debatable question. To you it may be looking hot and sexy. Others may consider being elegant and classy as the ultimate fashion. Some feel that it is a matter of attitude. Some feel that it is a sort of romancing the body and being able to look good and feel good. But the main reason is that the majority feels that one should be able to stand out in a crowd and be noticed in a positive way.
As such the main task of the designers is to ensure that their outfits look different and are different. Yes`85 often their creations may not be original, but with some imagination, sharp styling and still more desirable smart packaging, they can guarantee a new look.
The outcome of these efforts is a sort of 'version clothing'. This has resulted in some extreme designs—-sort of sequined T-shirts by Radhika Ravi and Krishna Sobhani—-meant to be body-hugging dresses and worn as such.
This need to catch attention is also turning old conventional dresses like churidar to a type of churidar pant, similar to tights. Salwars have become hip cargo trousers, provided with patch pockets and mutliple zippers. Embroideries like kantha over delicate block prints provide a good contrast.
Some of the fashion designers like Kareena Rajpal have contemporised the Tibetan bakhu skirt into a sort of wrap sarong, to be worn with (believe me or not) Nepalese angarkah tops or blouses in bright red and orange. To borrow from China and Japan, mandarin collars and kimono jackets fashioned out of rich brocade with broad waistbands give the attire a distinct pan- Asian look.
Designers working with soft silks with colours like burnt orange and burgundy make it a point to have a dash of orientalism, whether it be Thai or Indonesian or Chinese in their creations.
Incidentally, the humble Indian lungi, especially favoured by Tamil Nadu and Kerala (known jocularly as 'cut straight and long'), seems to have taken a reincarnation with rich hues of orange and with tribal motifs printed in the North-East, especially Manipur, Nagaland and Arunachal Pradesh.
One advantage is that the lungi turned into sarong can be worn with almost everything ranging from T- shirts/drapetops/waistcoats/wraptops. Champa Singh and Leena Shah use this advantage to show quite a number of Indonesian motifs in their
sarong creations.
But all these innovations have their exceptions also. For example Chandrika Mathur's collection of dusty, cool pastel trousers and skirts teamed with light-coloured brocade shirts and kurtas are an example of so-called 'soul dressing'. Incidentally, the laidback lounge look has made a comeback.
Manoj Thakurta has described his lycra T-shirts with Mughal prints, basically in Jodhpur blues, as classic chic. You can place Rama Guha's digital prints-inscribed T-shirts and Bala Venkat's sequin-decorated maharani kurtas in the same category.
In Harish Vandana's much appreciated khadi collection, the plain T-shirt takes the form of shoulder tops. Vandana explains that the idea is to create a feminine look/feel based on loose, limp unstructured clothing. This is easily expressed in knitware with understated shades like ivory and off white. — MF