Payback time for Armed Forces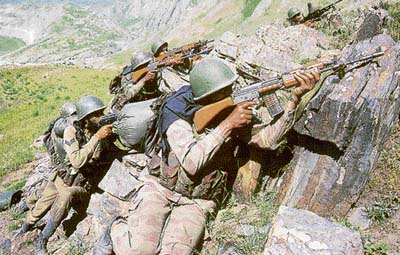 Blame it on low remuneration, tough working conditions and, above all, high risk to life, the armed forces today are not an enviable career choice. The forces are not only short of thousands of men but also troubled by a high attrition rate. Dejected with the poor compensation and lack of understanding shown by the successive pay commissions to their "career hardships", the three services have for the first time come together to demand their due. Vijay Mohan reports

Origin of plant species in webs
Careful scrutiny of spider webs can help in conducting worldwide surveys of plants, a new study by a team of Indian, Chinese and British researchers has revealed.
Palaces of the President
As the country readies itself for the twelfth President, J. N. Vohra looks at the the three official residences of the First Citizen
As head of the state, the President of India is the focal point of all state ceremonies and there are three mansions — Rashtrapati Bhavan at New Delhi, Rashtrapati Nilayam near Secunderabad and The Retreat at Mashobra, near Shimla — designated as his official residences.
Evergreen trinity
Citizen Kane was named the greatest American film of all time in a high-profile poll conducted recently, followed by The Godfather and Casablanca. The order might be debatable, but the choice of the Big Three is certainly not, writes Vikramdeep Johal
Now here's a movie poll that can be taken seriously. It was conducted by the venerable American Film Institute, not by any newspaper or magazine; the voters were film historians, critics and other experts, not common moviegoers. The list of top-100 American films of all time is headed—for the second time in a decade—by the late actor-director Orson Welles' Citizen Kane (1941).
'Success is a lousy teacher'
Mahesh Bhatt on his latest film Awarapan to Vickey Lalwani
How would you describe Awarapan?
In many ways, Awarapan represents my inner core. I have always had this wanderer in me, which has kept on raising his head. This wanderer is an angst-ridden outcaste who is not confined to the safe heavens of society and lives life on the edge. There is a burden of a trauma, which he has not been able to resolve.


Burden of life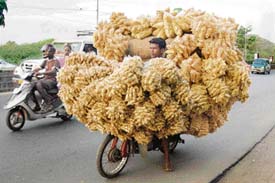 This two-wheeler rider is almost invisible amidst the large number of snack items he is carrying on his vehicle in Chennai. — Photo PTI
SOCIETY
Romeos turn social activists
The Yaari Dosti Peer Education Programme, launched by two NGOs, has changed the lives of many eve-teasers. Earlier blamed for their anti-social activities, they have now become role models, writes Nitin Jugran Bahuguna
After college, we would stand at the street corners and eve-tease girls. We were aimless," recalls Mahendra Rokade (34),a resident of a slum in Chembur, Mumbai. His friend Raju Shinde (38) adds: "Living in a gunda-gardi (hoodlum) area we were influenced by our surroundings and whiled away the time, ogling and passing lewd comments at girls.
Richest Indian in Hong Kong
Harilela is a tycoon with a business empire spread across the globe. His rags-to-riches story is a saga of hard work, determination and self- confidence, writes Ramkiran Mehta
The richest Indian in Hong Kong, Dr. Hari Harilela, is a legend written in the annals of that island's business. His 70-bedroom mansion situated in one of Hong Kong's most posh areas, has been discussed for its sheer opulence and sometimes the lack of taste in having gold faucets.
Permanent make-up may disfigure you
Researchers in the US have warned that going in for a permanent make-up to enhance appearance could lead to disfigurement, especially in people who suffer from allergic reactions. In the permanent make-up procedure pigments are injected into a deep layer of skin called the dermis to enhance eyebrows, eyelids and lips.