Richest Indian in Hong Kong
Harilela is a tycoon with a business empire spread across the globe. His rags-to-riches story is a saga of hard work, determination and self- confidence, writes Ramkiran Mehta
The richest Indian in Hong Kong, Dr. Hari Harilela, is a legend written in the annals of that island's business. His 70-bedroom mansion situated in one of Hong Kong's most posh areas, has been discussed for its sheer opulence and sometimes the lack of taste in having gold faucets. To this day, four generations of the Harilela clan have lived together under one roof in their famed 100,000 sq ft mansion—-a supreme luxury in this space-starved city—- and an annexe that, between them, have 70 bedrooms, a 70-car garage and a 75-seat cinema.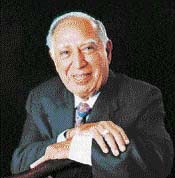 Dr Hari Harilela
What makes Harilela's credentials even more credit worthy is that he had to fight his battles in a hostile Chinese environment where the Indians were looked upon as upstart outsiders. There are more than a 1000 Indian millionaires on the island.
Hari's rags to riches story is a saga of hard work, determination and self- confidence. The story began in the 1900s when Dr Harileila's father journeyed to Canton in China in search of his fortune and opened an antique shop there. Later, on receiving the news that his mother was very ill in Sindh, he rushed to India. When he arrived, he was devastated to learn that his mother had just died and the family, without waiting for him, had already cremated her. Deeply hurt, he renounced the family name of Mirchandani and created his own surname by joining the names of his parents, Haribai and Lilaram. Thus was born the name Harilela, and the reason why there is only one family in the world by the name of Harilela.
Returning to Canton the senior Harilela flourished on the west's fascination with the orient, exporting a steady stream of Chinese antiques, jade and other curious around the world. Eight years after arriving in Canton he was able to send for his wife and sons to join him. They arrived as the great depression of the 1930s began devastating businesses around the world, and the Harilela's business was among the casualties.
But they picked themselves up, and today Dr Harilela admits that those difficult times have made him what he is today. "My father always used to say that no matter how much money you have, if you don't have reputation, it doesn't count for anything. That philosophy he ingrained in me is valid even today. I always tell my children to be what they are, be honest, and have integrity, most importantly , keep the good name of your family.
Harilela started with a clothing-cum-tailoring shop, and then pioneered the idea of supplying custom-made suits by mail order. This was a great success. However, Hari realised in 1960 that the mail order boom is a temporary phase. So he diversified into real estate, and almost came to own Hong Kong's famed Golden Mile, the best real estate strip, single- handedly. But because his brothers didn't quite like the idea, he had to let part of it go.
Nevertheless, Harilela has built some of the most prestigious buildings on this site, which give him an international financial presence to the tune of billions (in American dollars).
The Harilela family hotel chain includes nine major hotels such as Holiday Inn Golden Mile in Hong Kong, Westin Resort in Macau plus hotels in Bangkok, Singapore, Penang, Montreal, Sydney and London. All these hotels have top professionals in management positions. With family members manning crucial positions, the business interest of the group is well looked after. But that doesn't mean Hari takes it easy. Now over 80, he still works full-time and travels around the globe, visiting his hotels and business.
As a tribute to his long and distinguished public service, particularly to trade and to the Indian community in Hong Kong, in 2000, three years after China took over Hong Kong . he was honoured with the territory 's second highest honour, the Gold Bauhinia Star (GBS) by the Government of the Hong Kong's Special Administrative Region (HKSAR).
He is a tycoon with a business empire spread all across the globe. He has struck a perfect balance between the materialistic world and the real values in life. Very few in the world understand and maintain this equilibrium. — MF