Make foray into business economics
Sunit Dhawan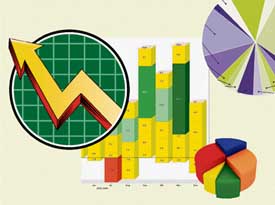 Most students find themselves at crossroads after completing their graduation, especially from the traditional academic disciplines. It is difficult for them to make a choice from among a vast variety of traditional, technical and professional courses. Due to the inadequate career counselling and guidance facilities in the country, most of them either go by their parentsí wishes or simply follow their peers.
However, to lead a happy, successful and fulfilling life, it is important for the students to realise their true potential by selecting a career option suitable to their aptitude and temperament.
Getting started
Business economics is an emerging discipline which promises a bright future to the candidates having a flair for economics and willing to work hard with diligence and concentration.
With the fast pace of globalisation and economic growth, the skill requirements in the corporate world have undergone major changes. Business economics is one such area where skilled professionals are relatively scarce and corporate requirements rising fast. Professional study programmes in the discipline are designed to produce qualified business managers having strong economics fundamentals.
Why business economics?
In the highly competitive corporate scenario of the present day, companies are looking for candidates who have an ability to carry out discreet analysis of the market forces and whose managerial decisions are based on economic logic.
In professional courses in business economics, various aspects of management are taught with a foundation of economics so as to enable the professional business mangers to take economically logical decisions. In short, this specialisation involves application of economic principles in business management.
Though the course is open to graduates from all streams, it is especially beneficial for the students having a commerce or economics background. Mathematical orientation and understanding of statistics are considered added advantages, and so are analytical ability and industrial know-how.
Course contents
The students are rigorously trained in macroeconomic management, business environment, industry analysis and business research methods, in addition to the popular areas of general management. They are exposed to practical realities of the corporate world through field surveys, role-plays, group discussions and other pedagogical techniques.
Thus, in addition to acquiring management training, the students develop the potential to work as professional economists in corporate enterprises, industry associations, market research companies, consulting organisa tions and government departments. In due course, they also pick up skills to company economists, business analysts, project managers, economic research officers, bank economists and market analysts.
Admission criteria
Graduates in any discipline with 50 per cent or more marks can apply for admission to masterís programmes in business economics. Many universities of the region, including Delhi University, Maharshi Dayanand University, Rohtak, Kurukshetra University, Punjabi University, Patiala and others offer masterís degrees in business economics or MBA in business economics.
The admission to these courses is made on the basis of MAT score of the candidates or on the basis of individual entrance tests. Some institutes also offer BBA in the discipline.
Prospects
The field is a promising one, which presents a host of jobs in various sectors. These include the banking and insurance sectors, agribusiness management, retail business management, hospitality sector, market research and consultancy organisations.
Business economics professionals are readily absorbed by business associations such as FICCI, Assocham, CII, PHDCCI as economic and industrial analysts.
They can be employed as project officers in large banking corporations and PSUs, besides prestigious institutions such as the Reserve Bank of India, Nabard and so on.